Danielle Wightman-Stone

|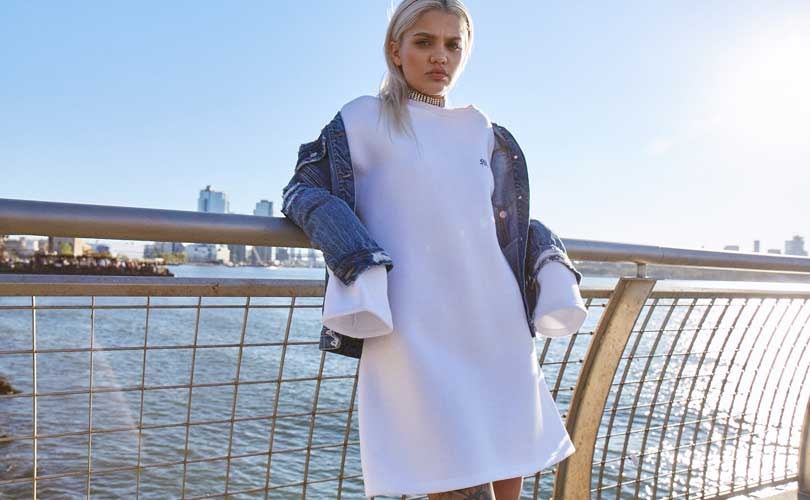 Fast fashion retailer Missguided is set to open its second standalone store at Bluewater, following on from the successful launch of its debut store in Westfield Stratford City last November.
The 16,000 square foot store will be situated on Bluewater's lower Rose Gallery and will mark the brand's first standalone store outside London, adding to its two concessions in Selfridges' Birmingham and Manchester stores.
The new store, which is set to open this summer, will be designed by Dalziel and Pow and will stock all of Missguided's collections including fashion, lingerie and nightwear, activewear, maternity and bridal.
Nitin Passi, founder of Missguided, said: "Bluewater is a great brand match for Missguided and we already have a strong following across the catchment via our e-commerce site. Combined with the work Land Securities has done to create the ideal store, we have the perfect opportunity from which to grow our brand and are looking forward to a very successful future at Bluewater."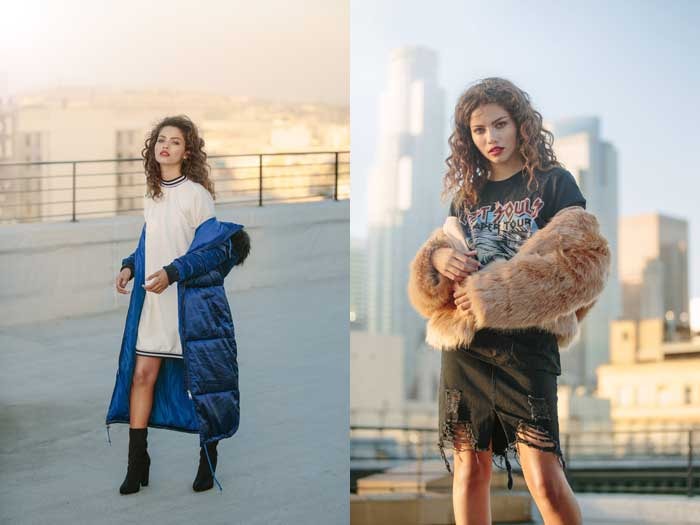 Russell Loveland, portfolio director at Land Securities, co-owner and asset manager of Bluewater, added: "Signing Missguided for the store that marks the brand's move out of London is a major milestone for Bluewater and a great way to begin 2017.
"Missguided is also the latest step in our strategy of continual evolution of Bluewater's offer. Last year, more than 20 new brands opened, a number of whom created statement stores unique to Bluewater. Missguided joins an exciting line-up that differentiates Bluewater from any other location in the UK."
In the last 12 months, more than 100,000 square foot of new or enhanced space has been introduced at Bluewater. This includes upsized stores for H&M and Fat Face, which opened its 40,000 square foot regional flagship in November, and the shopping centre also became the location for Mint Velvet's first store in a non-high street location.
Images: courtesy of Missguided
Vivian Hendriksz

|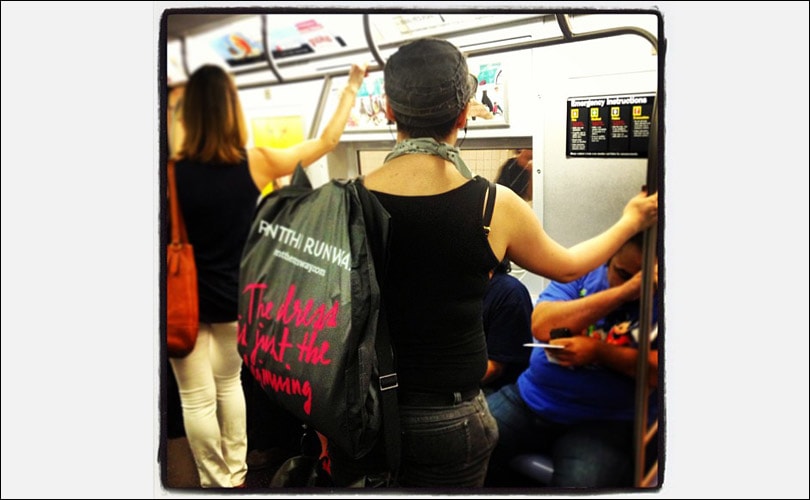 London - 2017 is undoubtedly set to bring it own set of trends for the future. However one major trend ready to boom this year sees one of the largest generations in history, Millennials, reshaping our economy as we know it. Born between 1980 and 2000, Millennials attitudes towards consumption and ownership are shifting as the 'sharing economy' influences their purchasing decisions. Coupled with the rise of technological driven social companies, such as Uber, Spotify and Airbnb, companies across all sectors - including fashion and retail - are being forced to rethink their business in order to survive. FashionUnited takes a closer look at the dawn of the sharing economy and its effect on the fashion industry.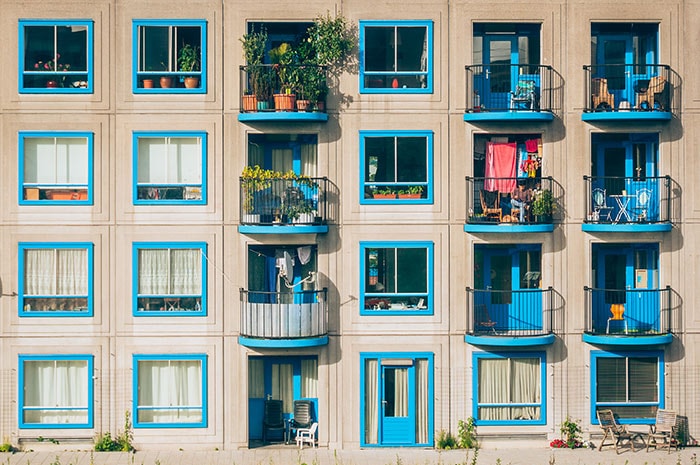 Saying Goodbye to Ownership of Big-Ticket Items
Numerous surveys from the likes of Verdict, Hammerson, Goldman Sachs and PwC all indicate that purchasing and owning a house are no longer realistic aspirations for the majority of millennials in the UK and the US. Data from Goldman Sachs indicates the peak home buying years has increased from 25 years old to 45 years as an increasing number of millennials still live at home with their parents. Less than half of those born in 1990 (47 percent) are expected to own a house by the age of 40 according to research from Hammerson carried out with Verdict, which is a strong reflection of the growing disconnect between house prices and earnings increase as well as a shift in attitudes towards owning property.
However, in spite of growing trend away from home ownership, close to a quarter of millennials surveyed by Verdict (23.8 percent) say they are not concerned with home a home of their own and would be content to rent for the rest of their lives. Overall this shift in ownership attitude is likely to have an impact on shopping behaviour as millennials are less likely to invest in big-ticket items such as cars and luxury goods. This can already been seen in the slowdown in luxury demand and back up by data from Goldman Sachs. According to the Fortnightly Thoughts survey 25 percent of millennials do not intend to purchase a luxury handbag in the near future and another 25 percent not holding any strong feelings towards luxury handbags in general.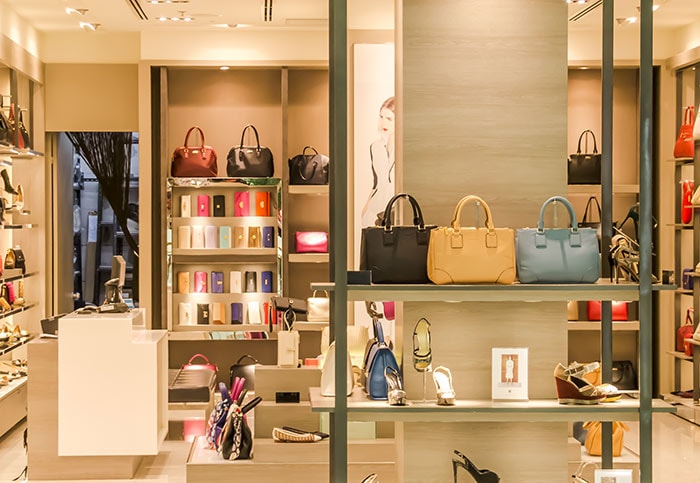 The Emergence of the Sharing Economy
As the prospect of home ownership continues to move further away from young people's minds, the growing influence of the sharing economy continues to influence their attitudes. In fact, data from Verdict shows that over half (53 percent) of millennials have used a sharing economy business, such as Uber or Airbnb last year compared to just 16.2 percent of the 35 plus age category. Although the sharing economy is seen by many as an innovative approach to democratising ownership, the key drivers for businesses which rely on the economy of sharing are consistent with millennials general demands - affordability and convenience.
Looking at the sharing economy from a retail perspective, it becomes clear that a number of categories are better suited to the concept than others. For example, a fifth of millennials say they would consider renting clothing, sporting equipment or DIY products according to Hammerson and Verdict, but less than one in ten would consider sharing jewellery. Considering the personal nature of jewellery in comparison with something like a jacket or a treadmill, it would makes sense that millennials are more open to idea of retail rental. In addition clothing tends to have a high value, but low usage ratio with most consumers wearing a single garment a maximum of 7 times before getting bored of it, making it the perfect category for the sharing economy.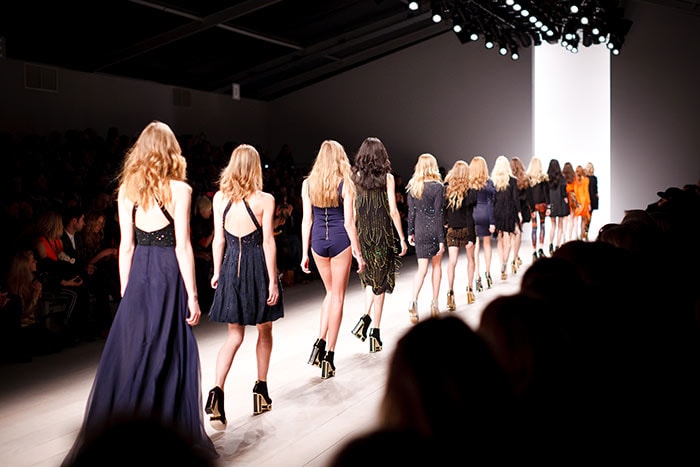 The Sharing Economy and Fashion
At the moment there are several different types of business models within the fashion industry that use the sharing economy, including rental services and consumer to consumers websites. The first model includes websites such as Rent the Runway, Le Tote, and Girl Meet Dress. In addition to these rental websites, which offer consumers to freedom to rent designer piece for a fixed amount of days, there are also more niche rental websites such as Gwynnie Bee, a plus-size fashion rental website and Borrow For You Bump, a maternity appeal rental website. The business model of these websites sees the company purchasing numerous designers and statements fashion pieces and then renting them out for a fixed amount of days.
Some offer a monthly subscription, which lets consumers rent out X number of garments per month and then return them at the end of the month in exchange for a new selection for a fixed amount. These websites are beginning to gain traction in the US and the UK because not only do they offer consumers access to higher-end brands they may not be able to afford if they were to purchase an garment themselves, but they also offer them the chance to try out new fashion trends or designs without having to invest in owning the garment. This offer is especially enticing to millennials, as it leaves them with more spending power and choice, without having to commit to full on buying the garment. In fact, Rent the Runway model has become so successful that the company has opened a series of physical stores across the US, so consumers can try a garment in person before renting it.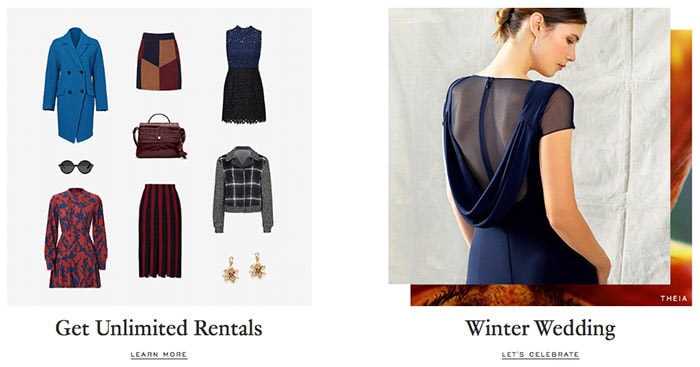 Another growing area within the sharing economy of fashion are consumer sharing marketplaces, such as StyleLend and Rentez-Vous. These services offer consumers the chance to monetise unused garments or accessories in their wardrobes, which makes them especially appealing to millennials. However on the flip-side this means consumers will have to oversee issues such as delivery and returns of rented items, the cleaning of the garments as well as the overall lack of choice in colour and size of items available for rental. This in turn can make these type of fashion rental options less appealing to some millennials as it demands both their time and attention. But as delivery options and dry-cleaning services improve it will make consumer sharing platforms much more convenience and accessible to all consumers.
The Future of the Sharing Economy and Fashion
Although 2017 will see a surge in sharing economy start-ups, if it continues to grow within the fashion sector it could have a subtle, but deep effect on traditional retailers and businesses. Consumers are unlikely to stop purchasing everyday, staple garments which are fixed basics in their wardrobes such as t-shirts, jeans and sweater, but are likely to rent out statement items from rental websites for special occasions or events. This shift in shopping behaviour could see consumers moving away from one-wear items, such as cheap copies of runway party dresses from high street retailers, in lieu of a renting the original designer piece for a week.

However, this doesn't mean that H&M is likely to open up in own clothing library anytime soon (even though the idea has been mentioned by the group before). Rather the two models are likely to supplement each other, as consumers will continue to seek out better quality and longer-lasting garments for their daily wardrobes. Then once consumers tire of an item, they can always make it available for rental via consumer-to-consumer platforms, extending the lifecycle of garments - a win-win situation for millennials and retailers alike.
"We've clearly identified how shopping habits have been shaped by the wider socio-economic environment," commented David Atkins, CEO of Hammerson on the sharing economy. "Attitudes towards home-ownership and the simultaneous emergence of the sharing economy will clearly have an impact on purchasing decisions for future generations. Likewise, the rapid adoption of technology, both in terms of how millennials shop and socialise, will continue to influence spending patterns."
Homepage photo: Charlie via Flickr
Photo 1 & 2 & 3: via Pexels
Photo 4 & 5: Rent the Runway, website
Photo 6: via Pexels
Vivian Hendriksz

|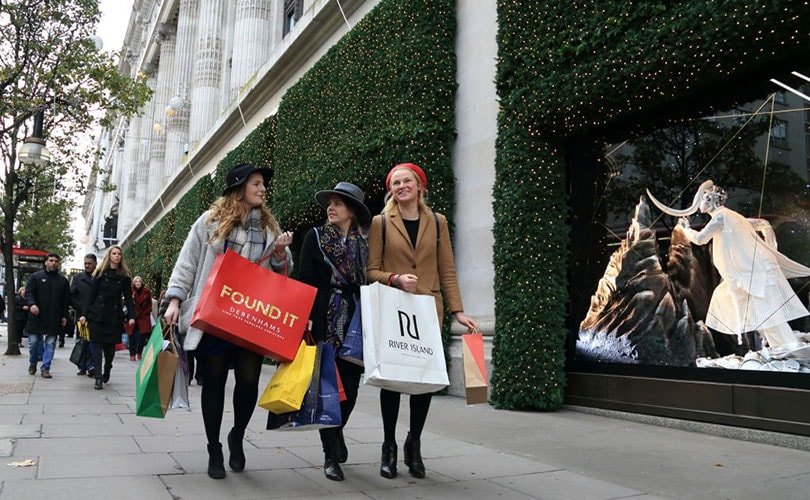 The UK high street did not exactly have a strong start to the new year as data indicates footfall dropped by 13 per cent across the country. UK shopping centres had it even tougher as visitor traffic plummeted by 50 per cent as cold weather and bank holiday trading hours kept shoppers at bay on New Year's Day according to retail benchmarking firm Springboard.
Out-of-town retail parks saw footfall decrease by 23.8 per cent and all together all retail destinations saw a 16.1 per cent decline in footfall across the weekend as the UK retail sector in general did not get off to a strong start in 2017. "The ease and comfort of online shopping proved too enticing for shoppers keen to snap up further discounts in the sales rather than bracing the cold outdoors," commented Diane Wehrle, Springboard insights director.
The weak start to 2017 could offer retailers a taste of what the rest of the year may hold in store, added Wehrle. "Retailers traditionally see the first trading weekend of the New Year as a sign of things to come, and if this still rings true the industry is set for a rocky 2017." From the three retail destinations, shopping centres are likely to face the most challenges in 2017, believes Wehrle.
"Having experienced a decline in footfall during 2016, these destinations need to up their game in order to provide additional reasons to draw shoppers away from their devices with an offer going beyond retail."
Photo: Pexels
Vivian Hendriksz

|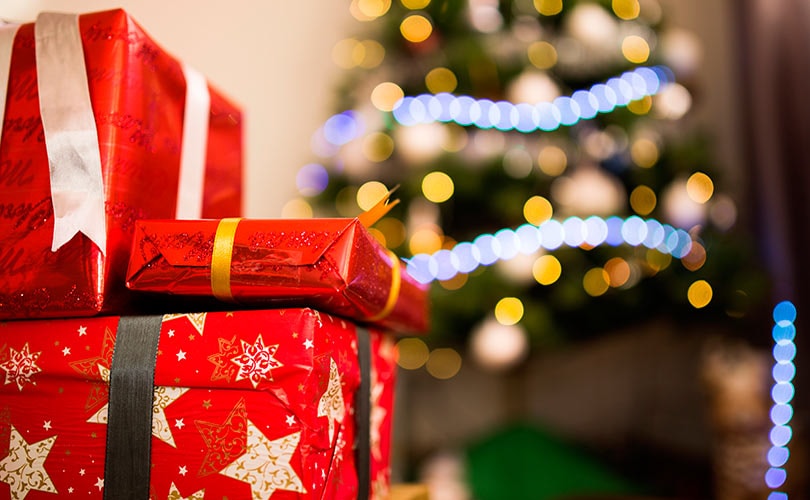 London - Today, Tuesday January 3, has not only been highlighted as the first full working day of the year - it is also set to become the busiest return days of the year according to the Royal Mail.
The mail delivery service predicts the number of returns of unwanted online purchases or gifts to increase by over 50 percent on Tuesday in comparison to the average number of returned packages per day last month, which is why is has been given the nick name "take back Tuesday."
Clothing and footwear are set to be the most returned items purchased online, as a recent study from Cambridge University shows the most regretted purchases across the UK tend to be clothing or footwear. A survey carried out by the Royal Mail's Delivery Matters - Return Special also found that 30 percent of online shoppers returned women's apparel, with 17 percent returning children's clothing.
The surge in returns prediction is said to be based on the number of return packages already logged in with Royal Mail through its Tracked Returns service, which is currently being used by over 1,000 online retailer across the country. In January 2015 the Royal Mail also saw its highest returns volume of the fiscal year.
Photo: Pexels
Don-Alvin Adegeest

|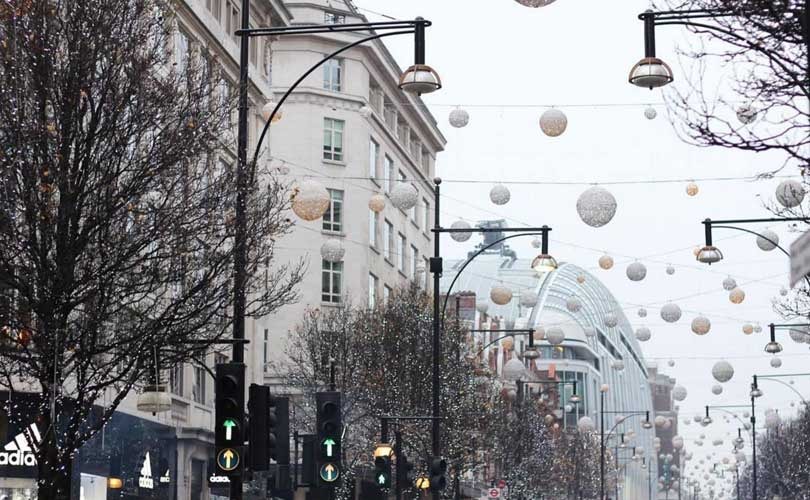 The KPMG/Ipsos Retail Think Tank are forecasting a slow, near stagnant retail growth of just 0.5 percent in 2017. The retail think tank, which provides an authoritative and trusted window on what is currently happening in retail, cite uncertain political climates as one key influencer on retail health.
Tim Denison, director of retail performance at Ipsos Retail Intelligence, suggested that "politics had finally caught up with retailing" in the way in which shoppers and voters are both pushing against the establishment. For years now, shoppers have been voting with their feet, punishing the 'safe and established' retailers that became disconnected from their customer, bringing them to their knees or, worse, sending them to the cemetery. In 2016, the same thing happened in mainstream politics: politicians experienced first-hand the damage that public disillusionment can inflict on the establishment."
The outcome of Brexit has not yet been felt
Last month retail sales growth accelerated in the year to December, with volumes rising at the fastest pace since September 2015 according to figures from the CBI Distributive Monthly.
Ben Jones, CBI Principal Economist, said:"It's encouraging to see retailers reporting another month of healthy sales growth leading up to the festive season, which rounds off a fairly solid quarter."While we still expect to see decent growth in the near term, the pressures on retail activity are likely to increase during 2017, as the impact of sterling's depreciation feeds through.With higher inflation beginning to weigh on households' purchasing power, consumption patterns are likely to shift, creating winners and losers across the retail landscape."
According to the Retail Bulletin the think tank members all noted how UK shoppers have been relatively relaxed until now about the results of the Brexit referendum, with consumer spending on the rise over the final months of 2016. However, they warned that this may change as Brexit negotiations and the changing political landscape across Europe crystallise.
Whilst consumers have benefited from deflated prices, Paul Martin of KPMG said: "We will see inflation rise, potentially up to 3 percent by the end of the year and in conjunction with continued foreign exchange fluctuations, prices will rise."
The think tank also stressed that 2017 will bring several reasons for optimism. Some members regarded the upcoming challenges as an opportunity for retailers to be more agile in the ever-changing external environment. The key, according to Martin, is to focus on "controlling the controllable."
According to the Business of Fashion and McKinsey & Company report: The State of Fashion in 2017, the number one trend that will define the fashion landscape this year is accepting "volatility is the new normal. Geopolitical instability, terrorism, Brexit, and stalled trade deals will all increase a pervasive sense of uncertainty in the global economy.
Politics aside, the average shopper is more sophisticated and shrewder then ever before. They are technologically savvy and expect optimal customer service across different retail channels. Retailers will be "working harder to keep up with smarter shoppers: "always-on" consumers are becoming ever more sophisticated, more technology-driven, and harder to predict," noted the report.
Investing in CRM is crucial in 2017
As consumers engage with technology to enhance their shopping behaviour, brands can leverage this to their advantage and further gain insights into their consumers. Investment in CRM is crucial for 2017. More than ever, fashion brands need to have a global view of their consumers in order to understand what they want, what they like, what they don't like, and where and how they shop.
Photo credit: Oxford Street, Facebook; Sources: Retailthinktank.co.uk, theretailbulletin.com, BOF McKinsey & Co The State of Fashion in 2017 report
Danielle Wightman-Stone

|
High street retailers including Marks and Spencer, Dune and Topshop are secretly using customers smartphones to track their movements around their stores, using new technology which picks up the pings emitted by phones as they look for wi-fi networks to join.
According to a report in The Telegraph, major retailers are now installing small white receiver boxes on their ceilings which are continuously gathering data, such as number of customers and movement around the store, which can be used to alter the layout to produce more sales.
Privacy campaigners such as Big Brother Watch are looking to highlight this new technology to shoppers who might be unaware that they are being watched and is calling on retailers to inform consumers of the activity, similar to CCTV warnings.
Chief Executive of Big Brother Watch Renata Samson said: "It's a huge problem, and most people don't even know that their own phone is being used to monitor them. Shops will say they are just trying to make the experience more personalised and better, but why aren't there signs warning people that it is happening, like for CCTV?"
Retailers, however, are using the data to analyse shopping behaviour, such as why people are abandoning baskets before reaching the checkout, as well as the times that they are shopping, with Topshop reportedly changing its opening hours at its London Oxford Street store based on its results.
It's predicted that the wi-fi analytics industry is expected to be worth around 19 billion pounds within five years.
Danielle Wightman-Stone

|
Buyers regret could be costing UK consumers up to 25 billion pounds a year, according to a study by Cambridge University.
The survey conducted by Cambridge University researchers Alexandra Skelton and Julian M. Allwood and published in the scientific journal Ecological Economics, reveals that 82 percent of adults in the UK have regretted a purchase at some point in their lives, with 67 percent stating that they had regretted a purchase in the last year.
The study showcased 'regret purchases' across 20 product groups, with post-purchase regret being particularly higher for clothing and footwear, with 60 percent of the 2,000 people surveyed regretting purchasing an item of clothing or footwear in their life, and 40 percent within the past year.
Of those that regretted a purchase they blamed others including partners, other family members and even friends, and surprisingly, men were 13 percent more likely to regret purchases than women.
The study estimates that the annual expenditure on regretted purchases could range between 5 and 25 billion pounds, the equivalent to 2-10 percent of annual consumer spending on goods in the UK. Such purchases could cost UK households up to 1,040 pounds every year.
Danielle Wightman-Stone

|
Swedish retailer COS, part of the H&M group, has opened its first store in Kuala Lumpur, within the Pavilion Elite, the extension of the iconic Pavilion KL shopping mall.
The opening in December, marks the retailer's entry into the Malaysian market and starts a new chapter for the brand in Asia.
Marie Honda, COS managing director, said: "We are very pleased to announce the inauguration of our store in Malaysia. Opening our first store in Kuala Lumpur is an exciting stage in our expansion in Asia and we hope to continue to grow in the market in the future."
The two-floor Kuala Lumpur store opened on December 16 and stocks COS' complete range of menswear and womenswear collections.
COS was launched in 2007 to offer classic and wardrobe essentials for women, men and children featuring timeless designs. Its first store opened on London's Regent Street, followed by the launch of the online store in 2011. The brand is now available in select locations across Europe, Asia, North America, the Middle East and Australia.
Vivian Hendriksz

|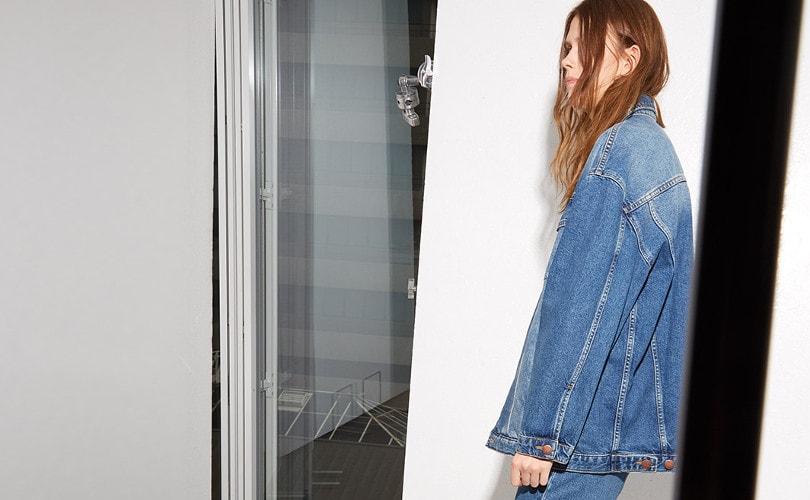 MatchesFashion is set to open its first standalone store for its in-house fashion brand Raey. The luxury fashion retailer aims to open a separate store for its own clothing brand next spring in Notting Hill.
Raey, which is designed by former Christopher Kane creative director Rachael Proud, offers minimalist, androgynous yet functional garments for men and women, with prices ranging from 85 pounds for a simple t-shirt to 1,200 pounds for a shearling jacket. The move comes as Matchesfashion continues to focus on expanding its reach both online as well as offline.
Co-founder of Matchesfashion, Tom Chapman, said that in spite of the current growth seen within the digital world, physical stores are set to remain an essential part of retail as they offer customers a unique shopping experience and act as a showroom in an interview with the Telegraph. In order to continue attracting customers to its stores, Matchesfashion hosts parties at London townhouse in Marylebone, as well as private shopping events for loyal customers.
"You can have maybe a thousand visitors to a shop but you can attract a million to a website in a very short timeframe," he said.
Photo: Raey, MatchesFashion website
Simone Preuss

|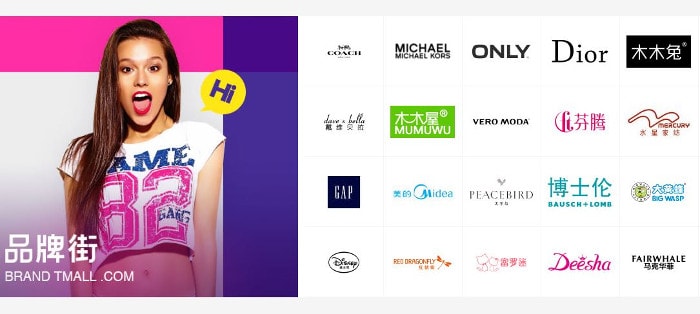 Tmall, global e-commerce platform of Chinese internet giant Alibaba, was able to increase the number of imported product categories to nearly 50 percent or 3,700 in 2016. The online platform enables international brands to sell online directly to Chinese consumers.
According to the company, more than 14,500 international brands from 63 countries and regions currently sell their products on Tmall Global. For more than 80 percent of them, their Tmall Global virtual store is their first foray into the Chinese market.
"With this flow of information … all manufacturers and brands, regardless of size, as long as their products are good and they have good service, have the same opportunity to enter the consumer market," said Alibaba Group CEO Daniel Zhang at a summit promoting cross-border e-commerce in Hangzhou last week.
Tmall is Alibaba's electronic world trade platform
A future of frictionless, borderless e-commerce is the vision of Alibaba Group founder and executive chairman Jack Ma. He also envisions the establishment of an "Electronic World Trade Platform" (eWTP), which would "leverage the internet to knock down trade barriers and allow small-and-medium-sized enterprises everywhere to more easily participate in global commerce".
In view of a high national savings rate and a new generation with more disposable income than ever before, China is eager to see consumption rise to keep propelling its economy forward. Chinese consumers are already demanding foreign goods and will continue to do so.
According to China's ministry of commerce, 120 million citizens traveled abroad in 2016, spending a total of 1.5 trillion yen (216 billion US dollars). By making it possible for Chinese consumers to more easily purchase foreign goods online, Tmall Global is essentially driving this overseas consumption back to China, hopes Alibaba.
For international brands and retailers, Tmalls customer profile is very attractive: more than 70 percent are between 24 and 32 years old, middle class, and dispose over an annual income of over 100,000 yuan (around 14,400 US dollars). Most of them live in top- or second-tier cities like Beijing, Shanghai, Guangzhou and Shenzhen.
Their spending habits are reflected in Tmall's bestselling product: Victoria's Secret lingerie, Swisse cranberry capsule (health supplements) from Australia, Manuka honey from New Zealand, skincare products by Japanese brand Matsumoto Kiyoshi, milk sold by German supermarket chain Metro and olive oil sold by British retailer Sainsbury's.
Photo: Tmall Website