AFP

|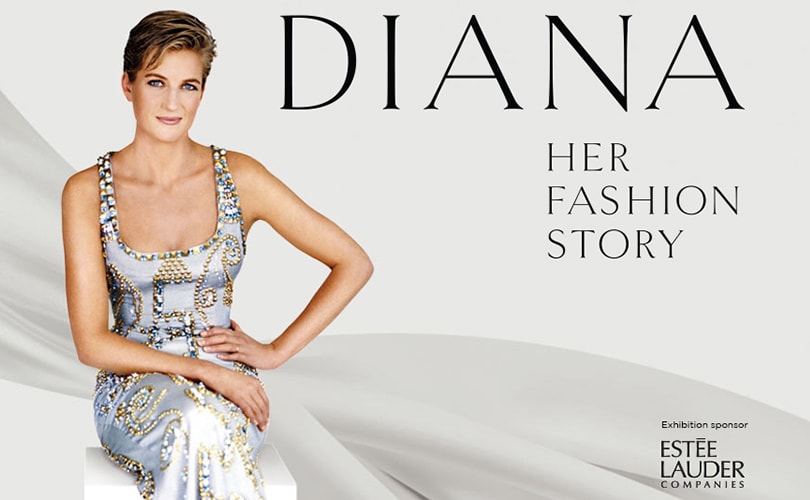 Glittering gowns, elegant suits and bold mini-dresses worn by the late Princess Diana will go on show from Friday on the 20th anniversary of her death in new exhibition charting her style reign.
"Diana: Her Fashion Story", hosted in her London residence Kensington Palace, follows her evolution from the demure outfits of her first public appearances to the glamorous gowns of her later life. The show charts how she not only rewrote the rules of royal dressing with a more informal style but also expressed herself through her fashion choices, before her 1997 death in a car crash in Paris.
"Each of the dresses is like a mini biography... They're not just what she wore but they tell stories," Libby Thompson, a curator, told AFP. Curator Eleri Lynn said: "We see her growing in confidence throughout her life, increasingly taking control of how she was represented".
Some of the highlights include the discreet pale pink Emanuel blouse she wore for her engagement portrait in 1981 and the dazzling ink blue Victor Edelstein velvet dress she wore when she danced with John Travolta at the White House in 1985.
So iconic is the "Travolta" dress that it sold for 250,000 pounds (310,000 dollars) at auction three years ago. Another gown, a silk velvet dress she wore for private events at Buckingham Palace during the 1980s, is sure to charm many visitors. Tiny fingerprints believed to belong to one of her sons -- Prince William and Prince Harry -- have been found on the material, preserved through the last 30 years.
Informal wardrobe
The show will also highlight how throughout her years as one of the world's most photographed women, Diana revealed herself to be a diplomatic dresser. The "Gold Falcon Gown" is a perfect example. She wore the Catherine Walker cream silk dress embroidered with gold falcons -- the national bird of Saudi Arabia -- during a visit to the country in 1986.
But it was by breaking the codes of royal dressing and embracing a more practical style that Diana transitioned from the Princess of Wales into the "People's Princess" -- the term used by then prime minister Tony Blair after her death.
She developed a more informal "working wardrobe" of chic Catherine Walker suits and tailored shift dresses to champion the causes she cared about. These outfits, designed to convey approachability, she wore on charitable outings including meeting people with HIV and visiting children in hospital. Following her separation from Prince Charles in 1992, Diana threw the rulebook away again by adopting a bolder look featuring many figure-hugging mini dresses.
The cream silk mini she wore while attending a charity auction of her more memorable dresses in 1997 is testament to that. Held in Kensington Palace, her residence for 15 years, the exhibition will extend to the gardens where her sons have said they will add a statue of her to mark the anniversary of her passing. (AFP)
Photo: 'Diana: Her Fashion Story' banner
Danielle Wightman-Stone

|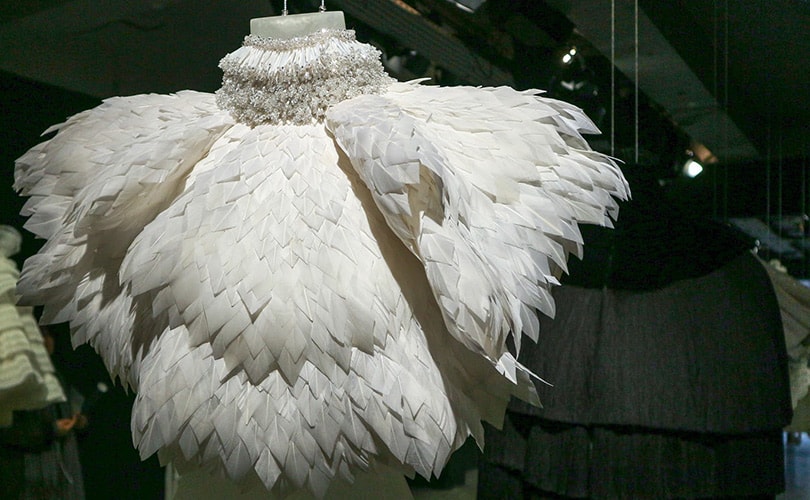 Burberry is once again showcasing its collection to the public at its pop-up show space the Maker House. Last season for its inaugural residency the exhibition celebrated British craftsmanship and drew over 20,000 visitors and until February 27, fashion lovers will be able to see Burberry's spring/summer 2017 "see now, buy now" collection inspire by the late British sculptor Henry Moore.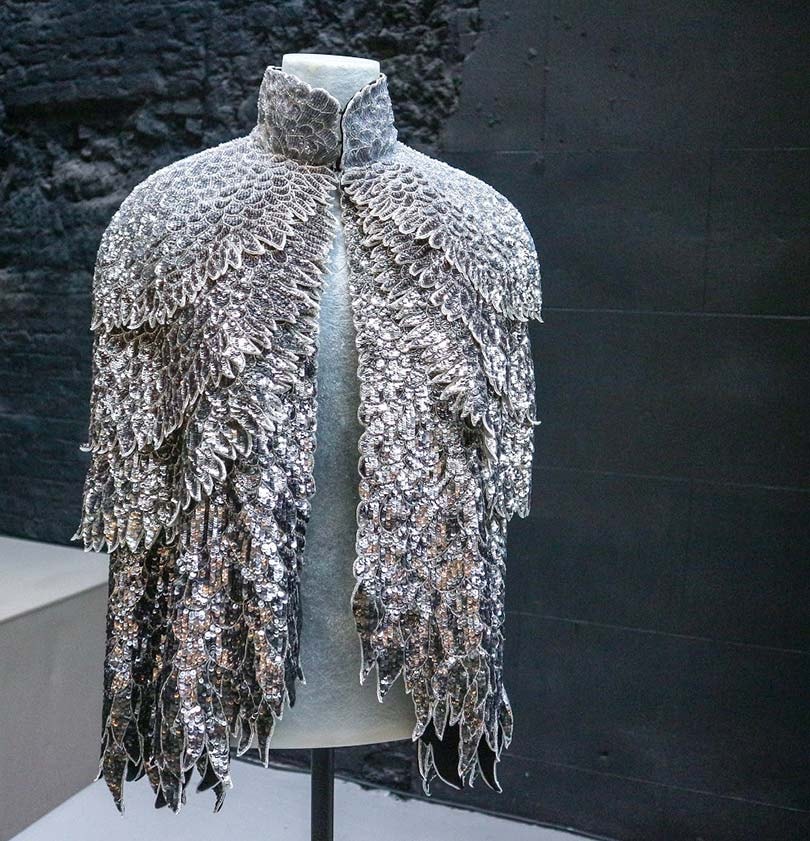 Entitled 'Henry Moore: Inspiration and Process at Makers House', the exhibition unveils Christopher Bailey's bold new direction for Burberry, starting off with 78 couture capes that were showcased on the catwalk during London Fashion Week, which were all inspired by the scale and form of Henry Moore's sculptures.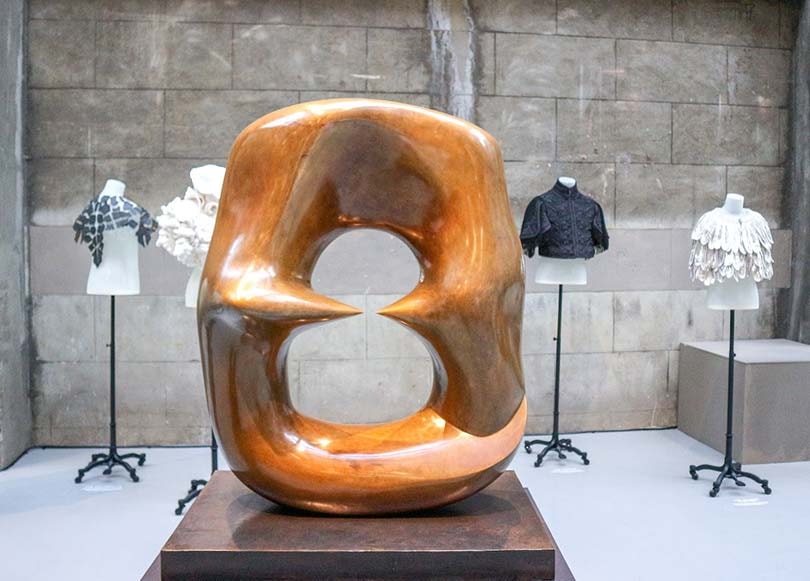 Visitors then make their way into the catwalk presentation, with each piece from the SS17 on display showcasing both women's and menswear, as well as key accessories from the show. Highlights include heavily embellished caplets, Elizabethan ruffles, asymmetrical cable knits, and lattice-inspired embellishments, as well as Burberry's iconic trench coats.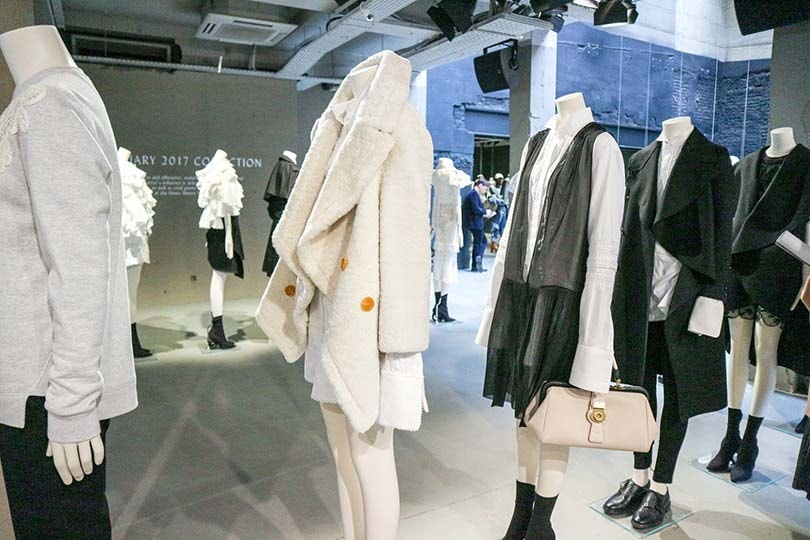 Burberry opens Henry Moore: Inspiration and Process at Makers House
As well as showing the latest Burberry collection, the exhibition also offers the opportunity to explore the working methods of Henry Moore, with drawings, working models, maquette, found objects and more than 40 of the artist's sculptures display alongside the clothes they inspired.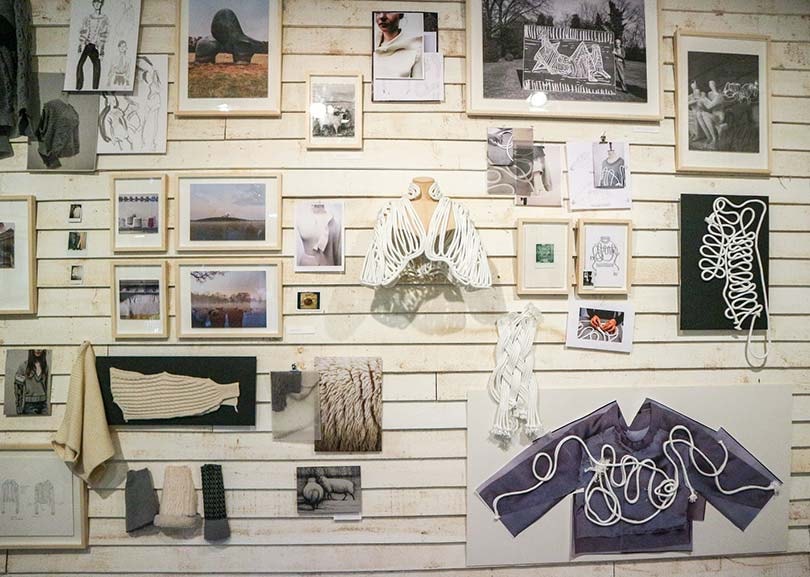 There is also a dedicated Poster Gallery showcasing Henry Moore exhibition posters from around the world, spanning 60 years, as well as a room dedicated to Burberry's inspiration, a Portrait Studio, where visitors can immerse themselves into the catwalk collection, and a pop-up of Burberry's Thomas's cafe.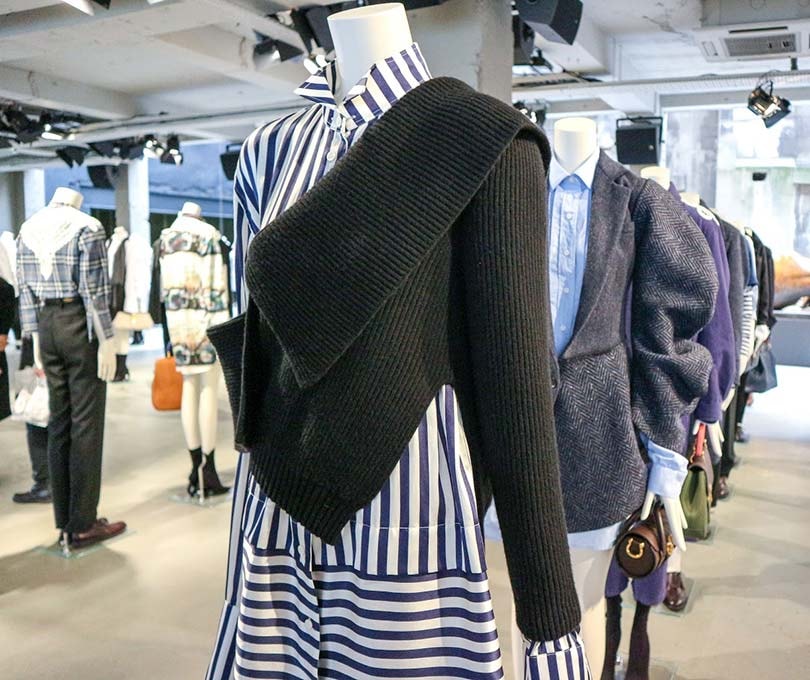 Open until February 27, the exhibition will hold a number of workshops and events including printmaking, textile printing, life drawing and a wax resist watercolour class, as well as live acoustic performances from Dan Owen, Lewis Watson, Rhian, and Matt Maltese.
Images: Danielle Wightman-Stone
AFP

|
​
The Acropolis is not for rent: Greece may be indebted, but the message over its ancient heritage is clear after it rejected a request from Gucci to hold a fashion show amid the ruins. ​
​ The decision was reached unanimously by the Central Archaeological Council (KAS), the guardian of Greek heritage, local media reported on Wednesday. "The Acropolis is a symbol for all mankind, which cannot be the subject of commercial transactions," Maria Andreadakis Vlazakis, general secretary at the culture ministry, was quoted as saying. ​
​ The luxury fashion house had reportedly offered two million euros towards the conservation programme for the Acropolis and was pledging to boost Athens' tourism revenues during a time of economic crisis. "We are always open to financial support" but "the country's difficult economic situation" is not an argument for ceding the monument, said the culture ministry official. ​
​ The Greek press was less polite, with a commentary in the daily Kathimerini newspaper describing Gucci's request as a "humiliation" and the site as "shining symbol of democracy". "The argument that it will benefit from the inflow of cash or the promotion is nothing less than a guise for abject cynicism," said the piece. Despite some decisions by the culture ministry facilitating it, commercial exploitation of ancient Greek sites remains extremely rare. ​
​ Greek-Canadian film director Nia Vardalos and America's Francis Ford Coppola are among the few who have been allowed to shoot at the Acropolis. Kathimerini also cited US singer Jennifer Lopez who was allowed to pose at the site in 2008 by a former culture minister, who bypassed the KAS. The most visited heritage site in Greece, the Acropolis is made up of temples including the Parthenon, the Erechtheion and Athena Nike. They date back to the fifth century BC, the golden age of Athenian democracy. ​
​ Restoration work has been ongoing for four decades with the help of European support funds.​ (AFP)
AFP

|
Italy's glossy style magazine Grazia will launch in Pakistan, publishers said Monday, as the deeply conservative Muslim country's growing fashion industry seeks a place on the world stage.
The first issue of Grazia Pakistan will go on sale this month, Saif Publishing said, with plans to double the initial run of 20,000 copies within six months. ​
​ "Pakistan's middle class as well as the fashion industry is booming and Grazia is going to provide an amazing platform to nurture this growth," said Zahraa Saifullah, the editor and publisher of the magazine, at a press conference in financial hub Karachi. ​
​ Pakistani fashion designers have been striving to develop the local market, which experts believe conservatively accounts for 200 million ​dollars ​ in revenue but is largely undocumented. ​
​ From an industry made up of just a handful of designers and models in the early 1990s, fashion shows that attract foreign buyers are now held regularly in Lahore and Karachi. ​
​ Its leading figures are aready gossip column and magazine staples, including in Grazia's rival Hello!, which launched a Pakistan edition in 2012. Ninety percent of Grazia's content would be local style, Saifullah said, adding: "We plan to show the fun, creative side of Pakistani fashion to the world." ​
​ The Italian edition of Grazia was first published in 1938. The popular magazine now appears in more than a dozen countries, including the US, France, Germany, Spain, Britain and India. ​ (AFP) ​ ​
AFP

|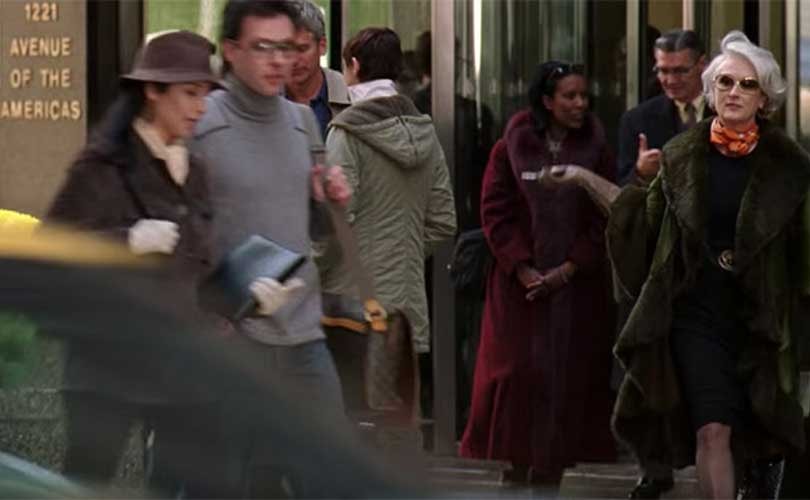 Pop superstar Elton John unveiled Thursday his return to Broadway with a musical adaptation of the blockbuster film and novel "The Devil Wears Prada."
John will write the music for "The Devil Wears Prada," with lyrics to be penned by Paul Rudnick, a humorist who frequently writes for The New Yorker magazine.
"Reimagining 'The Devil Wears Prada' for the musical theatre is super exciting," John said in a statement, which added that the production timeline will be announced later.
"I'm a huge fan of both the book and the feature film, and a huge aficionado of the fashion world. I can't wait to sink my musical teeth into this hunk of popular culture," the English musician said.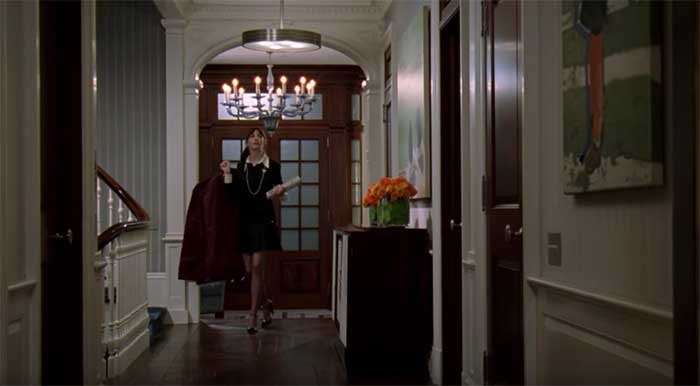 While Broadway is notoriously tough terrain even for famous names, John has a proven record of triumph with musicals. "The Lion King," his musical adaptation of the Disney animated film, set the record as the first show to gross 1 billion dollars on Broadway where it remains the third longest-running show in history.
He also found success with a musical adaptation of Verdi's opera "Aida" as well as "Billy Elliot the Musical," which closed last year after a successful run on London's West End.
Meryl Street and Anne Hathaway starred in the 2006 film "The Devil Wears Prada" about an all-powerful fashion magazine editor who tyrannically imposes her will on an ambitious young editorial assistant.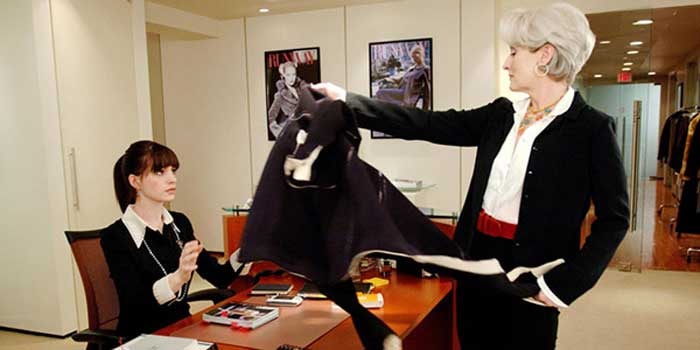 A major international box-office success, "The Devil Wears Prada" was based on the popular novel of the same name by Lauren Weisberger. The author formerly worked for longtime Vogue editor-in-chief Anna Wintour, although she has never confirmed that Wintour was the inspiration. (AFP)
Photos: Screenshots from the Devil Wear Prada, Movieclips, Youtube
Vivian Hendriksz

|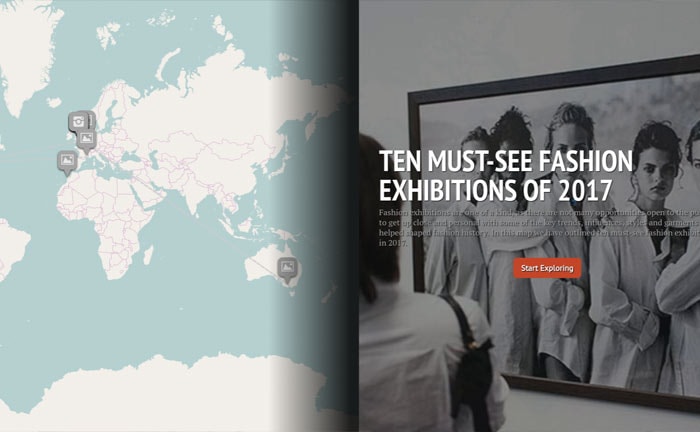 London - Fashion is said to be an experience one must feel, breath and live. It envelops us in our daily lives, whether we realise it or not - but there are certain aspects of fashion - it's roots, heritage and history - which can only be experienced in certain places, namely fashion exhibitions. Carefully curated and put together by a dedicated team, fashion retrospectives and displays offer viewers a unique opportunity to examine, investigate and study fashion - an experience no true fashion lover should miss.
In this interactive storymap, FashionUnited has rounded up ten must-see fashion exhibitions of 2017 and marked them out for you to keep in mind during your next journey.
Scroll down to navigate through the interactive map. Hit the button 'Start Exploring' and use the arrows to explore the map. Tip: for the full experience, click here to open the StoryMap in fullscreen in a new tab.
Interested in reading more on the fashion exhibitions? Then click here
Danielle Wightman-Stone

|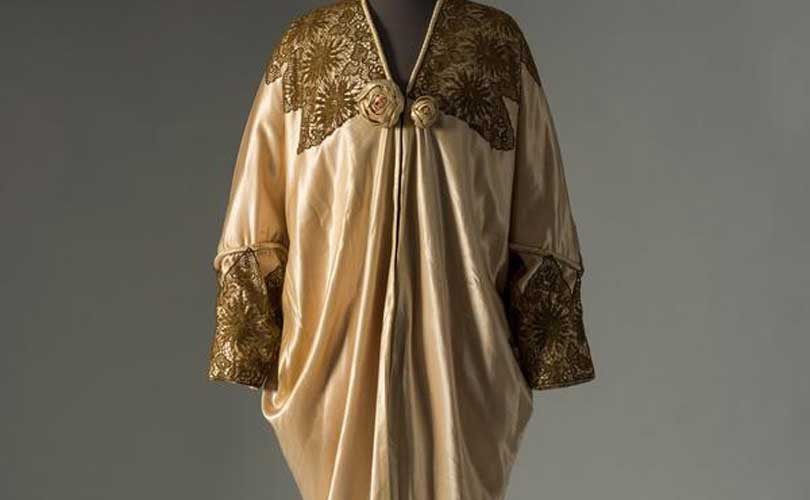 The Fashion Museum Bath has announced that its special exhibition for 2017 will be dedicated to 'Lace in Fashion', showcasing more than 50 pieces exploring how lace has been used in fashion from the time of Shakespeare to the present day.
Opening on February 4, the exhibition has been curated by Elly Summers, who has selected lace pieces from the museum's extensive collection dating from the1500s to the present day, to sit alongside loans from contemporary fashion designers including Burberry and Karl Lagerfeld.
The exhibition will look into a variety of themes, including the development of lace making from the 1500s to 1700s, the mechanisation of lacemaking in the 1800s and the new lace-making techniques, fashionable lace from 1909 to the 1970s, as well as how today's catwalk is challenging traditional concepts of lace in fashion, with fashion looks by Burberry, Alexander McQueen, Erdem and Christopher Kane.
There will also be a section dedicated to the Royals featuring a lace dress made in 1805 that may be the only surviving dress worn by Queen Charlotte, as well as two dresses by British fashion designer Norman Hartnell, worn in the 1950s by Princess Margaret and the Queen Mother.
Fashion Museum Bath to dedicate special exhibition for 2017 to lace
Other highlights will include the showcase of a smock dating from 1580-1600 with Flemish bobbin lace on the sleeves and collar, which is one of the oldest objects in the exhibition. This will sit alongside a delicate silver tissue dress made from fine silk woven with silver thread and trimmed with parchment lace, which dates from around 1660.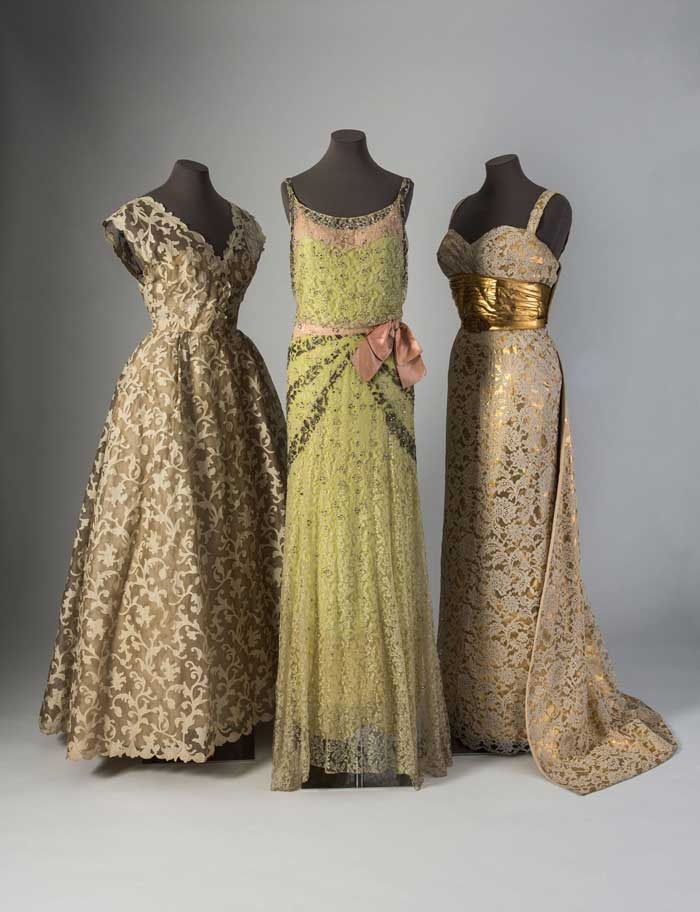 There will also be a number of modern lace designs including two looks from Burberry's spring/summer 2016 collection, a menswear look including a lace caban and shirt, and a womenswear look featuring a silk and lace dress, as well as a navy blue lace dress worn by Lea Seydoux in the James Bond film Spectre, which has been loaned to the museum by Australian design duo Lover, and a 1991 Karl Lagerfeld dress worn by supermodel Linda Evangelista in British Vogue.
'Lace in Fashion' will sit alongside the Fashion Museum's other major exhibition, 'A History of Fashion in 100 Objects', which runs until January 1, 2019 and the 'Dress of the Year 2016' that will be announced and go on display during February to become the 'grand finale' exhibit and 100th object in the museum's headline exhibition.
'Lace in Fashion' will run from February 4, 2017 until 1 January, 2018.
Images: courtesy of Fashion Museum Bath
Vivian Hendriksz

|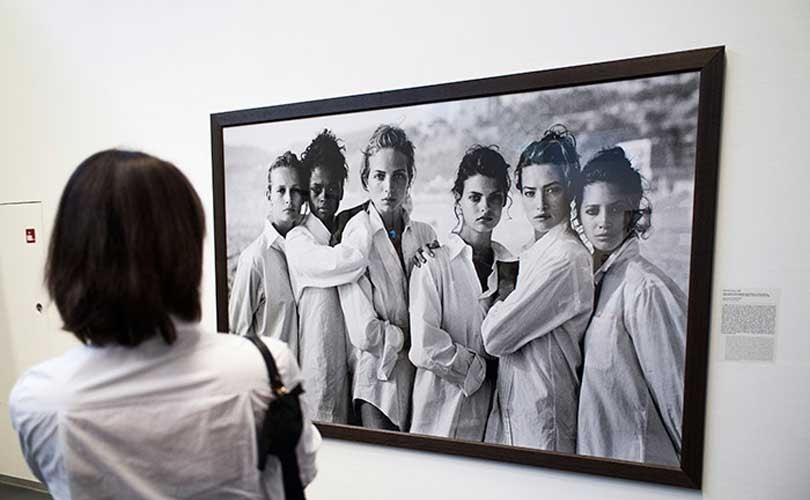 London - It's the start of a new year, signalling new chances, inspirations and designs to be made in fashion. However, there is nothing like being able to see fashion in real life, to be able to experience the creative process which goes into design up close and in person. Fashion exhibitions are a great way to explore the roots of some of the leading fashion houses, fashion trends and movements which have come to shape and define the industry's history, which is why FashionUnited has rounded up the top ten must-see fashion exhibitions opening in 2017, as well as ones to catch before they close this year.
Hubert De Givenchy - To Audrey with Love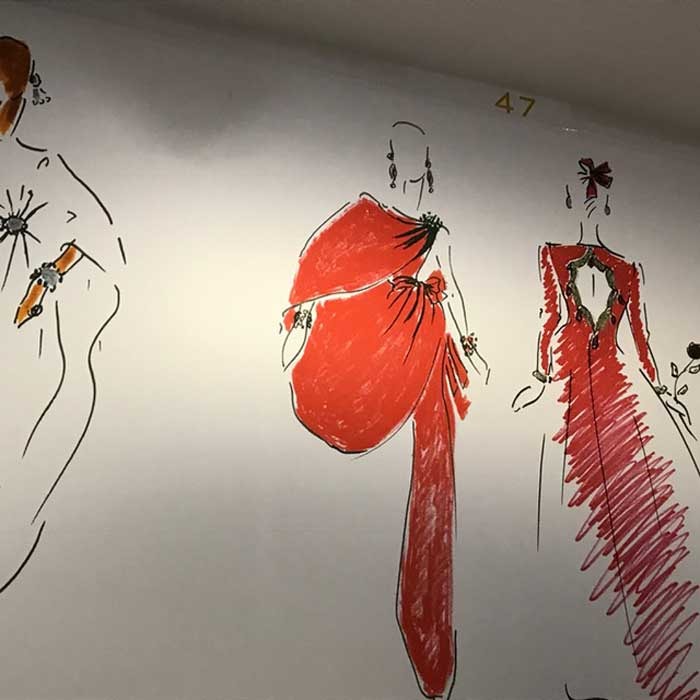 Where: The Gemeentemuseum, The Hague, The Netherlands
French couturier Hubert de Givenchy, founder of fashion house Givenchy, is said to be one of the leading designers of the 20th century. Together with the likes of Christian Dior and Cristóbal Balenciaga, he has left his mark in the history of haute couture. This grand retrospective of his work, entitled Hubert de Givenchy – To Audrey with Love was created together with the designer himself and offers visitors a unique glimpse into his career, from the opening of his fashion house in 1952 up until his retirement in 1995, focusing on some of de Givenchy's personal favourite designs. What's more, the exhibition also focuses on his friendship with iconic actress Audrey Hepburn, featuring designs wore by Hepburn as well as sketches, photographs and movie stills.
Hubert de Givenchy - To Audrey with Love from Gemeentemuseum on Vimeo.
When: November 26, 2016 to March 26, 2017
Photo: To Audrey with Love exhibition, Don-Alvin Adegeest, FashionUnited
Undressed: A Brief History of Underwear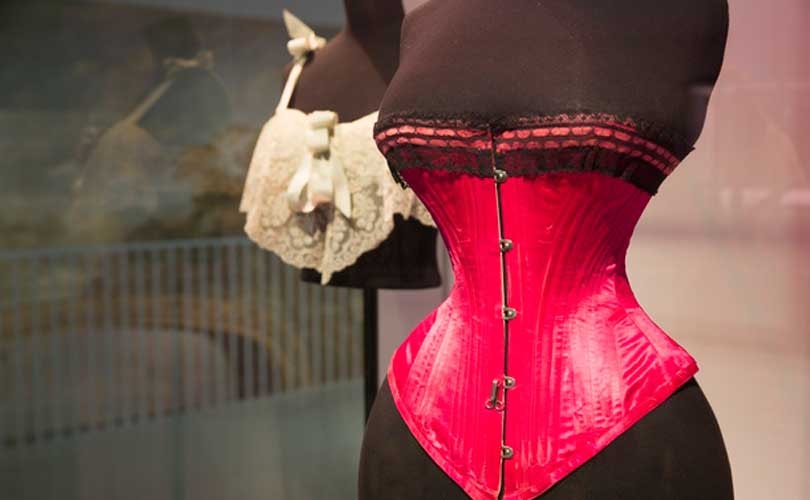 Where: The Victoria & Albert Museum, London, UK
If you have ever wondered about the history of lingerie, or the evolution of the bra, then this is the exhibition for you. The Victoria & Albert Museum is currently hosting the largest exhibition of underwear design to ever go on display, showcasing over 200 pieces. Entitled Undressed: A Brief History of Underwear, the exhibition highlights the changes in design, themes and innovation in undergarments from the 18th century to the present day. It includes custom-made, rare pieces such as the 'stays' worn by a working woman in England in the 18th century to lingerie from the linkes of Stella McCartney, Rigby & Peller and Paul Smith. In addition, the exhibition aims to explore the relationship between fashion and lingerie, looking at our notion of the ideal body, sex and morality.
When: April 16, 2016 through March 12, 2017
Photo: Courtesy of Victoria and Albert Museum
Peter Lindbergh - A Different Vision of Fashion Photography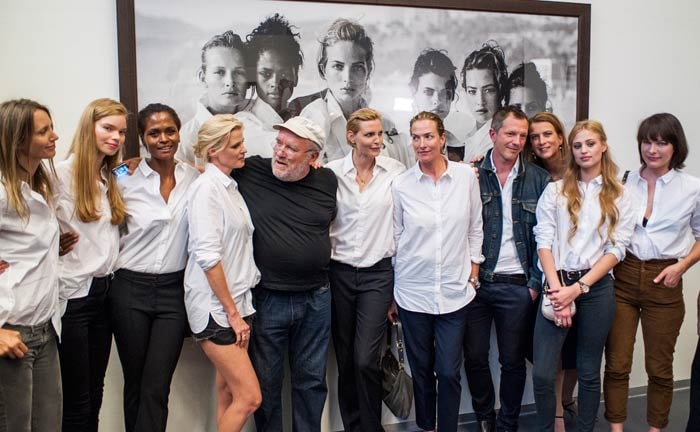 Where: Kunsthal, Rotterdam, The Netherlands
Fashion photographer Peter Lindbergh is perhaps one of industry's most celebrated artists. He has been credited with launching the careers of 1990s supermodels Cindy Crawford, Naomi Campbell, Linda Evangelista, Tatjana Patitz and Christy Turlington and his work continues to be renowned throughout the industry. Unlike other fashion photographers, who used fashion, glamour and sex to create their ultimate fantasies, Lindbergh main goal has always been to capture the pure and raw essence of his subjects with the actual garments acting as an afterthought. This, combined with his passion for storytelling, landscapes and dance is the focus of his debut international travelling exhibition A Different Vision on Fashion Photography a retrospective curated by Thierry Maxime-Loriot, which features over 220 photographs including never before seen photos, sketches, personal notes and other artifacts from Lindbergh's personal archives.
When: September 10, 2016 through to February 12, 2017
Photo: Press Preview at the Kunsthal, © Simon Trel Photography , FashionUnited
Balenciaga: Shaping Fashion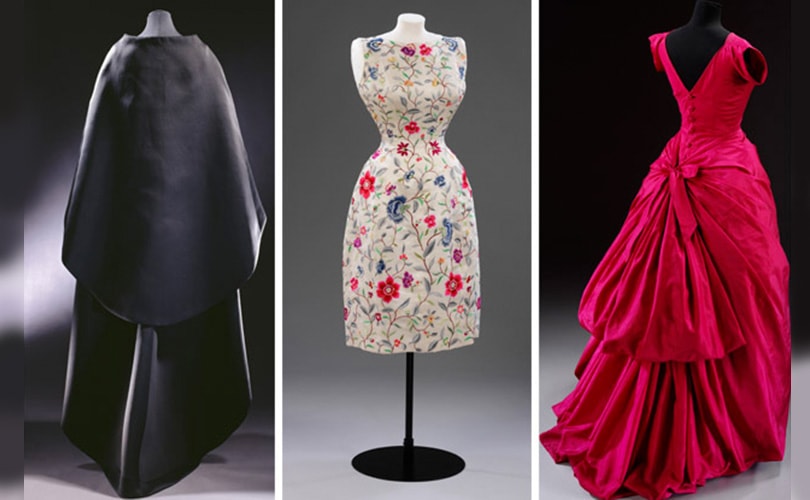 Where: The Victoria & Albert Museum, London, UK
The V&A is set to host another major fashion exhibition this year, which celebrates the work of couturier Cristóbal Balenciaga. Entitled Balenciaga: Shaping Fashion the retrospective marks the UK's first exhibition on the couturier's work and coincides with the 100th anniversary of Balenciaga's first store opening in San Sebastián, Spain and the 80th anniversary of the opening of his famed Paris salon. The exhibition is will closely examine the craftsmanship and skill which made the designer's creation so unique, while exploring how his designs shaped future creations. It will feature over 100 garments and 20 hats made by the couturier as well as never before seen sketches, film, photographs and fabric samples.
When: May 27, 2017, to February 18, 2018
Photo: Courtesy of Victoria and Albert Museum
Rei Kawakubo/Comme des Garçons - Costume Institute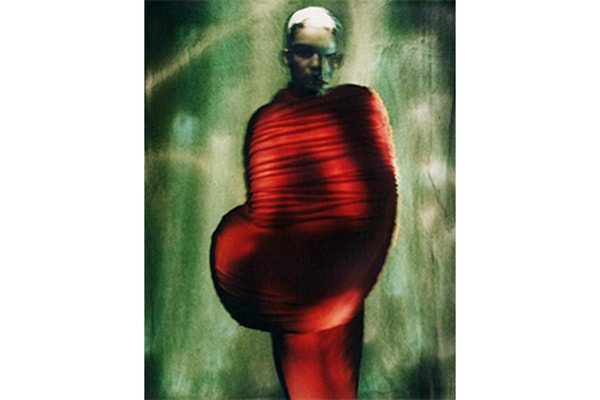 Where: The MET, Iris and B.Gerald Canton Exhibition Hall, New York, USA
The Costume Institute's spring 2017 exhibition is set to focus on the work of Rei Kawakubo and Comme des Garçons. The exhibition will explore Kawakubo's fascination with interstitiality - the space in between boundaries - and is set to feature 120 womenswear designs for Comme des Garçons. The garments date all the way to Kawakubo's first runway show in Paris in 1981 to her most recent collection and will be organised thematically instead of chronologically. In order to enhance the state of "in-betweenness" the mannequins used in the exhibition will be shown at eye level, with no physical barriers, in order to break down the usual perceived distance between visitor and object.
When: May 4, 2017 to September 4, 2017
Photo: Rei Kawakubo for Comme des Garçons (Japanese, founded 1969), "Body Meets Dress - Dress Meets Body," spring/summer 1997. Courtesy of The Metropolitan Museum of Art, © Paolo Roversi
Marilyn - I Wanna Be Loved By You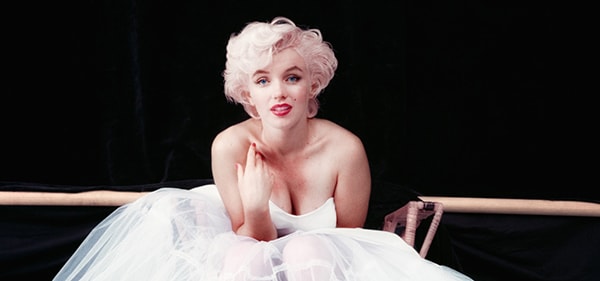 Where: Hôtel de Caumont, Centre D'Art, Aix-En-Provence, France
Marilyn Monroe is perhaps one of the most photographed actresses in the history of cinema. She has been photographed by some of the most celebrated photographers of her time: André de Dienes, Milton Greene, Philippe Halsmann, Eve Arnold, Cecil Beaton, Sam Shaw, Ed Feingersh, George Barris, and Bert Stern, all contributed to making her an internationally known icon. The exhibition, named Marilyn, explores the relationship the actress had with photography and the role it played in creating her icon image. Featuring more than sixty photographs, the exhibition follows her career from a pin-up model to an actress to the legendary star and how her exceptional photogenic nature contributed to her rise to fame.
When: October 22, 2016 to May 1, 2017
Photo: by Milton H. Greene © 2016 Joshua Greene - www.archiveimages.com
The World of Anna Sui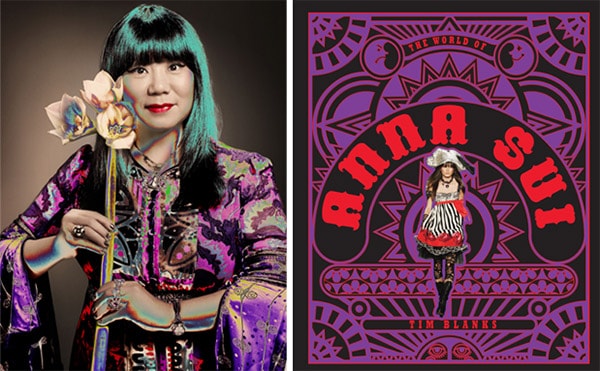 Where: Fashion and Textile Museum, London, UK
Anna Sui is one of the most iconic fashion designers in the United States. Her signature rock and roll, romantic style is known for being able to reinvent pop culture time after time, remaining relevant with each new generation. The exhibition The World of Anna Sui tracks her rise to fame, starting with her first catwalk show in 1991 to the present day and explores how her designs have shaped the course of fashion history. Marking the first time that an American designer has been the focus of a retrospective exhibition in the UK, the exhibit features over 100 looks from Anna Sui's archive, showcasing a roll call of archetypes from the Surfers and School Girls to the Hippies, Mods and Punks.
When: May 26, 2017 to October 1, 2017
Photo: Anna Sui, 2011 © Anna Sui; The World of Anna Sui, book cover 2017
The House of Dior: 70 years of Haute Couture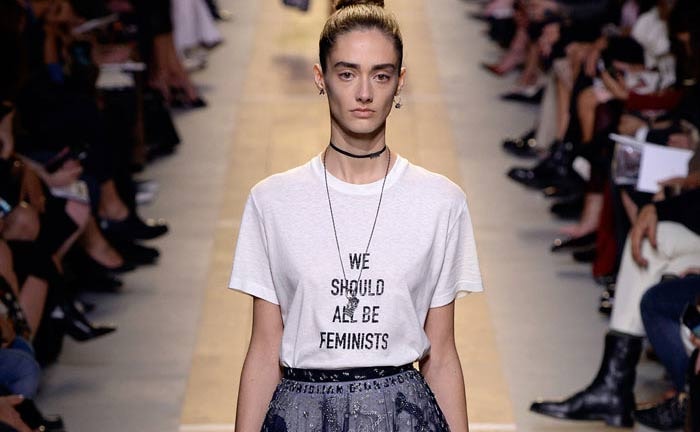 Where: The National Gallery of Victoria, Melbourne, Australia
In honour of the seventieth anniversary of Dior, the French fashion house has teamed up with the National Gallery of Victoria to host a unique retrospective exhibition. Entitled The House of Dior: Seventy Years of Haute Couture , the exhibition features over 140 garments designed by Christian Dior Couture between 1947 and 2017, making it the largest retrospective from the Dior in Australia. The exhibit explores the history of Dior by examining key pieces from the seven designers who have each played a pivotal role in shaping the fashion house's identity: Christian Dior, Yves Saint Laurent, Marc Bohan, Gianfranco Ferré, John Galliano, Raf Simons and Maria Grazia Chiuri. The exhibition also focuses on Christian Dior's early influences, design codes, offers insights into its atelier workrooms as well as the role of accessories.
When: August 27, 2017 to November 7, 2017
Photo: Dior SS17, Catwalkpictures.com
Diana: Her Fashion Story
Where: Kensington Palace, London, UK
Although is has nearly been 20 years since her death, the style of Princess Diana continues to live on and is set to be honoured in a special exhibition at Kensington Palace. Entitled Diana: Her Fashion Story, the exhibit follows the evolution of the late Princess Diana's style, starting with the demure, romantic outfits of her first public appearances up to the elegant, glamour and sophisticated air she exuded later in life. The exhibition is set to showcase a number of her favourite outfits, including evening gowns worn on engagements in the 1980s, to the Catherine Walker suits that made up Princess Diana's 'working wardrobe' in the 1990s. It is also set to examine her relationship with her favourite designers at the time.
When: Opens February 24, 2017
Yves Saint Laurent Museum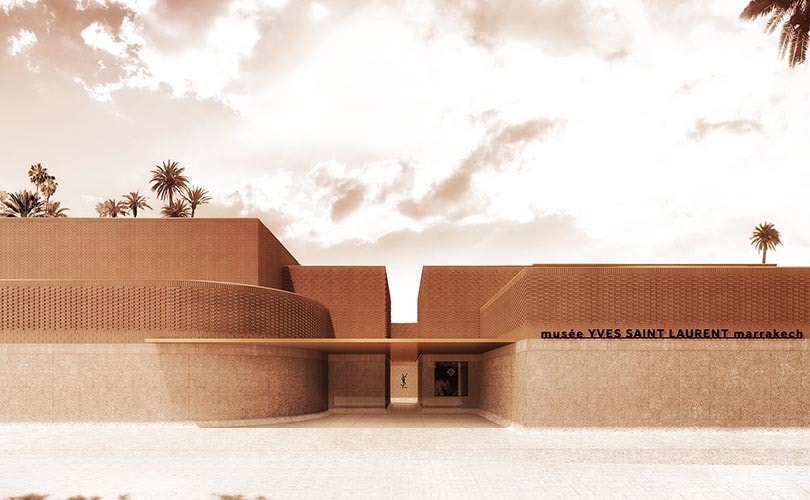 Where: Yves Saint Laurent Museum, Marrakech, Morocco and Paris, France
Not one, but two museums dedicated to the work of the the late Yves Saint Laurents are set to open their doors this year. Located in Paris and Marrakech, the museums are set to offer visitors a closer glimpse into the life and career of the beloved couturier. The latter of the two museums holds special significance as the city itself is said to have a profound effect on the couturier's lifework. Together the Fondation Pierre Bergé--Yves Saint Laurent and Fondation Jardin Majorelle are set to open the Musee Yves Saint Laurent Marrakech this fall, which will house an selection of the designer's work. The museum building was designed by French architecture firm Studio KO and is located adjacent to the Jardin Majorelle, which the late designer saved from destruction once up a time together with his onetime partner Pierre Berge in the 1980s.
When: Fall 2017
Photo: Courtesy of Studio KO, Musee Yves Saint Laurent, Marrakech
Homepage Photo: Peter Lindbergh Press Preview at the Kunsthal, © Simon Trel Photography, FashionUnited
Danielle Wightman-Stone

|

The late fashion designer Oscar de la Renta is to be honoured with a line of stamps by the United States Postal Service, including a black-and-white portrait of the designer shot by Inez van Lamsweerde and Vinoodh Matadin.
"The new year is shaping up to be exceptional as the Postal Service continues to produce stamps that celebrate the people, events and cultural milestones that are unique to the history of our great nation," said Mary-Anne Penner, US Postal Service director, stamp services. "We are very excited to showcase these miniature works of art to help continue telling America's story."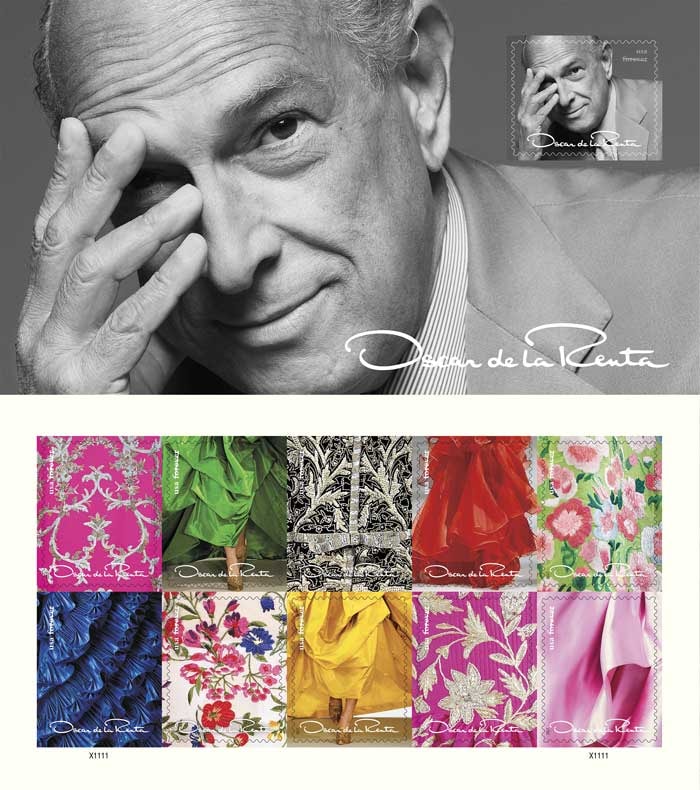 The pane of 11 stamps will also include 10 details from several of his most exquisite gowns, including a flamenco-style red ruffled dress, a pink-and-gold embroidered gown from his autumn/winter 2013 collection, as well as a number of his floral designs.
The famed designer passed away at the age of 82 after a long battle with cancer. Born in Santo Domingo, Dominican Republic, the designer became known for his romantic, glamorous styles often associated with Hollywood red carpets. His dresses have been worn by the likes of Amy Adams, Sarah Jessica Parker, Penelope Cruz and Jennifer Garner, and he also designed Amal Alamuddin's bridal gown for her wedding to George Clooney.
Other stamps to be issued include the Gateway Arch in St. Louis, MO, the Lili'uokalani Gardens in Hilo, Hawaii and the azulillo Chilean blue crocus flower.
Image: courtesy of United States Postal Service
Don-Alvin Adegeest

|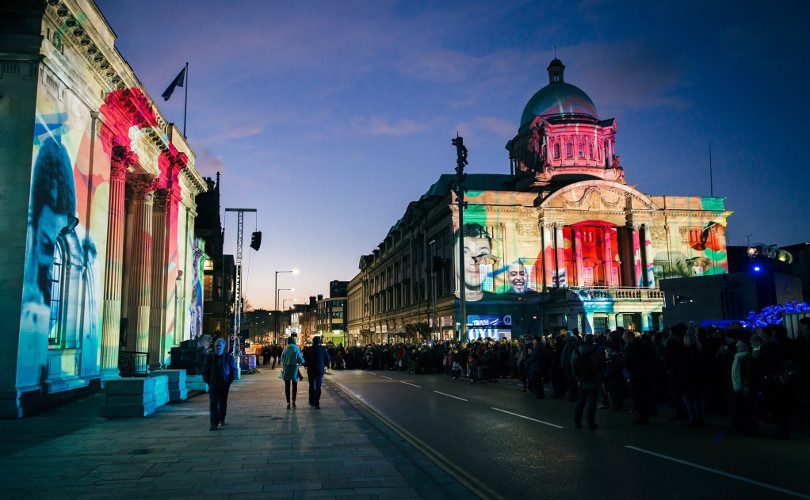 Hull in Yorkshire as been named the UK City of Culture for 2017, marked by a New Year's Eve celebration of extravagant fireworks and giant video projections.
The city aims to attract more than one million extra visitors to Hull during 2017, where cultural events, retail launches, fashion shows and art spaces will be a catalyst for change in Hull.
Martin Green, chief executive of City of Culture, said: "I want nationally and internationally people to see that this is a fantastic city with great stories, great people and a lot to offer. Because every city deserves its moment in the limelight and 2017 is ours."
Hull is the second city to be given UK City Culture status, following Derry-Londonderry in 2013. The city was selected in 2013 from a shortlist which included Dundee, Leicester and Swansea Bay.
More than 30 million pounds will be spent on the year's events and 25 million pounds has been invested in revamping the city centre and refurbishing the Ferens Art Gallery and the city's main theatre.
The city will host the Turner Prize and will see hundreds of concerts and other performances throughout the year.
Photo credit: City of Hull, source: Facebook