Danielle Wightman-Stone

|
Boden's collaboration with the British Fashion Council, Future British has named three new fashion talents that will be awarded with financial support and business mentoring to build a global brand from the fashion and lifestyle retailer over the next year.
The initiative supporting emerging designers and labels has named leather accessories brand Loxley England, jewellery label Alighieri run by Rosh Mahtani, and London-based footwear brand Dorateymur. They join Arthur Yates of Bruta and Alice Ashby of Blake LDN who were recruited to the initiative last June and will remain a part of it for another six months.
Each designer will receive financial support, as well as business mentorship including help with product development, brand identity, public relations, marketing and digital strategy. In addition, the British Fashion Council and the BFC Fashion Business Network will provide support and aid with banking, legal and production.
"It has been great to see the designers grow and flourish with the mentorship we offer at Boden; their energy and ideas are thoroughly infectious," said Johnnie Boden. "It's also great for us to connect with the future of British fashion."
British Fashion Council chief executive Caroline Rush added: "Through Future British, Boden has already fostered the businesses of several exciting young British brands, and I am delighted to welcome the next wave of designers to receive the invaluable mentoring and financial support that Future British offers."
Last year's inaugural recipients were Camilla Elphick, Samantha McCoach of Le Kilt and Caitlin Charles Jones.
AFP

|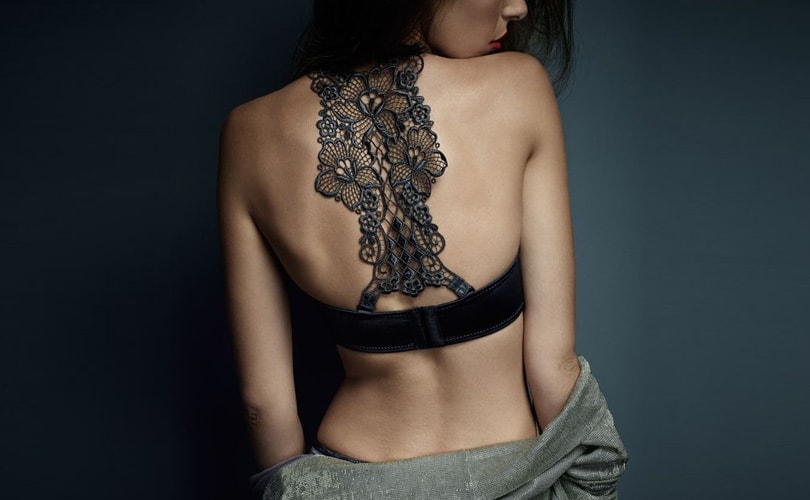 It wasn't exactly brassieres at dawn, but the French lingerie industry was not going to take a provocation from Victoria's Secret lying down.
The brash US lingerie label flew a jet full of supermodels into Paris in November for its annual Las Vegas-style fashion show, seeking to build a bridgehead into the lucrative European market. Such a slight to the city that invented sexy underwear could not go unanswered. The French resistance snapped into action with a rival show called "Lingerie, Mon Amour" (Lingerie, My Love) late on Sunday as Paris haute couture week began.
For the first time in history the country's 14 top brands united on the same runway to face down the US giant's steamroller hype with nothing more than some peek-a-boo lace and fine corsets. Billed as a clash of class against cash, it set Victoria's Secret's casino showgirl chic, and 3-million dollar emerald-encrusted "fantasy bras" against the subtle age-old French art of seduction.
While Victoria's Secret spent 20 million dollars bringing Lady Gaga and electro star The Weeknd across the Atlantic, the French show settled for a 14-piece orchestra to summon up the spirit of Marie Antoinette, one of the first women, its organisers claimed, "to liberate herself from her corset". And rather than a procession of pneumatic models led by Gigi and Bella Hadid, the French show went for older, unknown models to show that glamour was "within every woman's reach". Karine Sfar, who heads the French lingerie federation, said that France was still the world's number one for high-end undies because of the unparalleled know-how of its bra makers.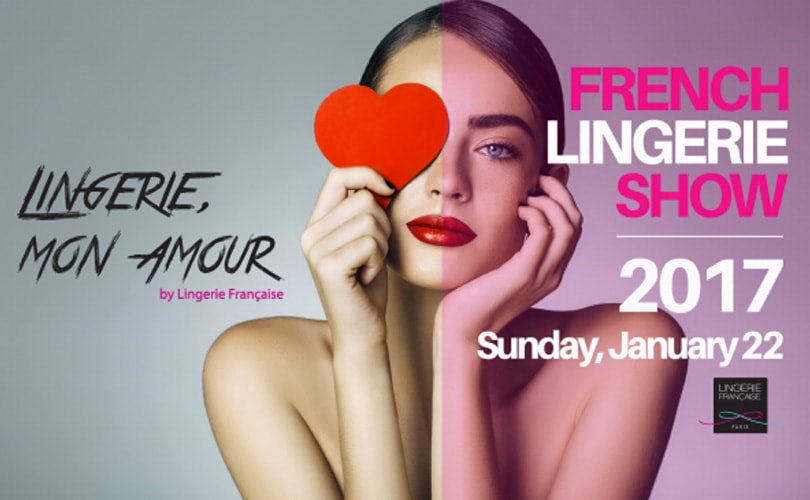 Women buying it for themselves
"Each bra has 30 to 40 individual parts, and it takes an incredible amount of expertise" to really make the best of a woman's assets, she added. But most of all, she said with such "an intimate garment", it had to be comfortable and "make you more beautiful" while smoothing away all that you don't want on display.
Rather than lingerie being something men bought for women -- the business model that drives Victoria's Secret $7-billion in sales -- women buy French underwear for themselves, said Alain De Rodellec of the Chantelle label. "It is not all about pleasing men. Women buy lingerie first of all for themselves to feel good and to feel beautiful.
Although France is number four in the world behind China, Taiwan and Sri Lanka in terms of volume of lingerie it makes, Sfar argued that the country where Hermine Cadolle invented the modern bra in 1889, still has the edge on style and quality. "The French je ne sais quoi", she said. She said they had deliberately not hired big-name models for the packed show to take the limelight off the lacy creations themselves. The show played on three centuries of Gallic coquetterie, from the courtesans and ladies in waiting of the Palace of Versailles to the femmes fatales of Dior's "New Look", and Yves Saint Laurent's powerful women in black smoking jackets and suspenders.
Despite its focus on giving women inner confidence, Sfar admitted that the big name historic French lingerie companies such as Aubade and Maison Lejaby, are far from feminist bastions. "We cannot say that when almost none of the heads of the big French companies are women," she said. De Rodellec said lingerie had long been regarded "accessories rather than real clothing. But it is a real fashion item and it deserves its place on the fashion runways. "It has long been our dream that lingerie shows become part of Paris fashion week, and we hope that will happen one day," he added. (AFP)
Photo: Empreinte and Lingerie, Mon Amour
FashionUnited

|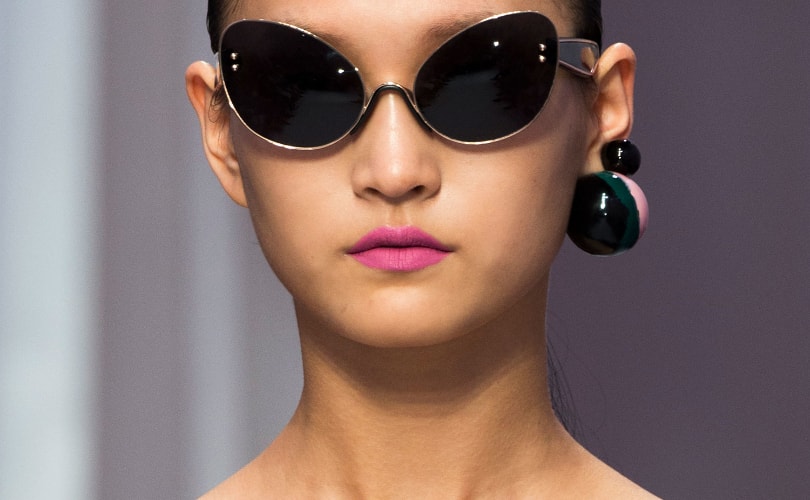 Trendstop's accessories team brings you key accessory trends for the spring 2018 season, fresh from our accurate prediction formula forecasts. These essential themes have been tracked by our trend experts, from their emerging concepts on the catwalk through to exciting street style innovations and high end retail validation, to confirm its commercial value and seasonal longevity.
This week, FashionUnited readers get an exclusive insight into three essential accessory trends featured in our SS18 Accessories Forecast. Cat Eye Curves reworks classic cat eye silhouettes with softened constructions, whilst Crystalline Coral references sharp, organic forms in jewel encrusted necklaces. Oversized clutch bags are soft enough to cuddle in The Oversized Cuddle Cluth, as supple leathers and velveteen napped suede creates malleable forms.
Cat Eye Curves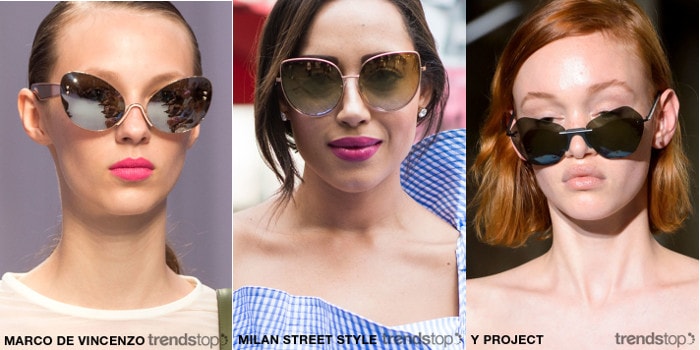 Classic cat eye silhouettes are reworked with oval shapes and rounded edges, creating a more curvaceous form. Sharp winged corners and blunt edges are rounded off for a softer take on retro styles enhanced by fine wire and frameless constructions.
Crystalline Coral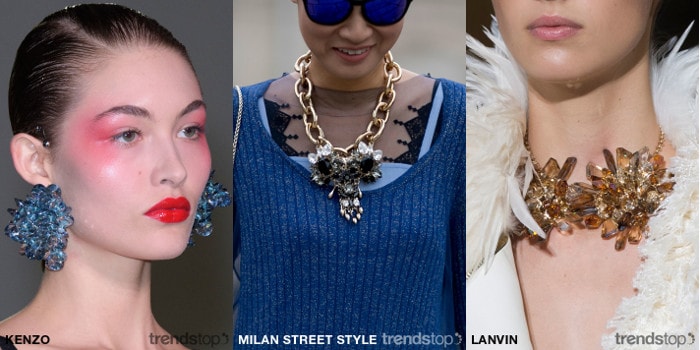 Glittering crystals reference the coral reef as gemstone shards and layered paillettes come in translucent oceanic tones. Jewel encrusted neckpieces and pendants inset with giant faceted onyx cabochons accented with glittering diamonds are shaped like sea flowers and anemones.
The Oversized Cuddle Cluth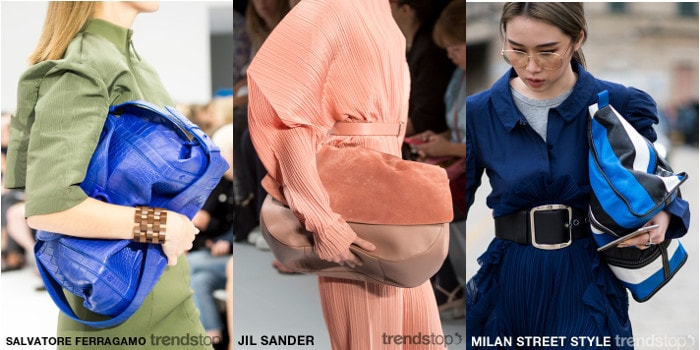 Oversized clutch bags are soft enough to cuddle up to as XXL proportions are finished in super spongy and tactile fabrications. Supple leathers and velveteen napped suede create unstructured malleable forms, moulding pillow-like to the body for a comfortable carrying style.
Exclusive Offer
FashionUnited readers can get free access to Trendstop's Spring Summer 2016 Bags Forecast, an essential report featuring the season's key themes and silhouettes for the accessories market. Simply click the banner to receive your complimentary report.

Trendstop.com is one of the world's leading trend forecasting agencies for fashion and creative professionals, renowned for its insightful trend analysis and forecasts. Clients include H&M, Primark, Forever 21, Zalando, Geox, Evisu, Hugo Boss, L'Oreal and MTV.
Images courtesy of Trendstop: Marco De Vincenzo Spring Summer 2017, Y Project Spring Summer 2017, Kenzo Spring Summer 2017, Lanvin Spring Summer 2017, Salvatore Ferragamo, Jil Sander Spring Summer 2017, Milan Street Style.
Danielle Wightman-Stone

|
The Council of Fashion Designers of America (CFDA) is forming an innovative collaboration with global professional services company, Accenture to help shape how the fashion industry integrates technology and consumer insights into its business practices.
The CFDA Retail Lab will create talent-development schemes for today's designers and retailers, said the CFDA in a statement, which will utilise Accenture's expertise in, customer experience, strategy, insights and technology.
As part of the partnership, Accenture will also work closely with the Lab's select group of emerging fashion designers to develop customised retail strategies and equip them with the critical business knowledge and digital skills required to stay competitive in today's challenging retail market.
"CFDA's new collaboration with Accenture will provide our design community with an invaluable resource to help navigate retail and business technology," said Ashley-Brooke Sandall, CFDA's director of strategic partnerships.
In addition, Accenture and CFDA will develop a series of thought leadership articles and hypotheses on the future of the fashion customer experience and test these ideas in live pilots with CFDA Members.
"The CFDA represents the fabric of the fashion industry and has been instrumental in giving emerging talent a series of platforms to gain real-world business and retail experience," said Jill Standish, senior managing director of retail at Accenture. "Working together with such a prestigious organisation, we can help these designers acquire highly sought-after digital skills needed for them to be at the forefront of industry innovation, grow their businesses and drive tangible business results."
The collaboration will be supported by Fjord, the design and innovation unit of Accenture Interactive and Accenture Labs, which prototypes and pilots new concepts through applied R&D projects. Plans include inviting fashion designers to participate in Fjord's design studio in New York and test technologies like artificial intelligence and virtual reality to bring customer engagement to the next level.
Last year, the CFDA launched Retail Lab with Cadillac to help emerging talent make their foray into the retail world, with Retail Lab's first physical store at Cadillac House, in New York. The initiative enabled select designers to open a retail installation for three months and learn skills integral to succeed in the industry, under the mentorship of fashion industry experts.
Don-Alvin Adegeest

|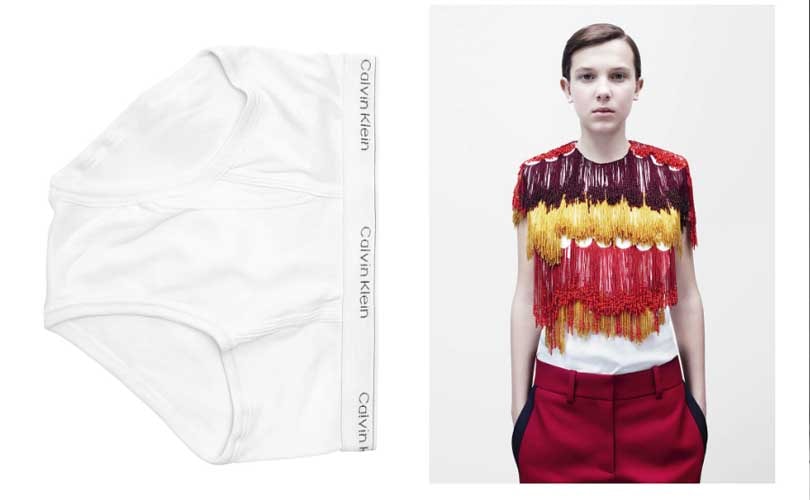 Without much fanfare, press release blitz or savvy Instagram campaign, Calvin Klein has quietly unveiled its first collection by Raf Simons, its new Chief Creative Officer.
On Sunday the brand released a series of fourteen looks under a new 'By Appointment' moniker. Simons' handwriting can be widely recognised, working with longtime collaborators photographer Willy Vanderperre and stylist Olivier Rizzo to create the images, which feature Millie Bobby Brown, Abbey Lee, Julia Nobis, and Samantha Eldridge in haute Calvin Klein, each photographed alongside a pair of iconic white briefs.
From underwear to bespoke fashion
Several soundbites tell us Simons is keen to move from iconic underwear to bespoke fashion and that the collection is 'presented in the photographic tradition of Calvin Klein: Utilizing billboards, newspapers and the Internet.'
The major shakeup is its new By Appointment service is available to everyone, not just celebrities and spokespeople for the atelier as was previously de rigeur. The fourteen looks can be ordered from April 1st and embody embroidered, tailored and considered fashion with a traditional, handcrafted sensibility. It has now become a bonafide collection in its own right.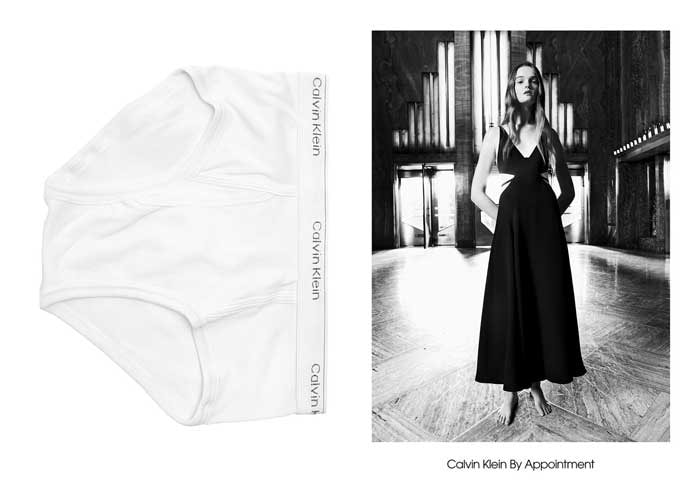 According to its website, the collection is a tribute to the craft of the Calvin Klein atelier, celebrating its full range of handcrafting skills from embroidery to tailoring. Simons stated: "Calvin Klein is not only about iconic underwear and jeans – it's about so much more. Calvin Klein By Appointment 1-14 is very much about celebrating the American woman and American fashion."
"It is driven by character; it's about a woman feeling empowered and being her own person in what she wears." Pieter Mulier, Creative Director Calvin Klein, and Raf Simons' right hand man.
The shoot features a cast of distinct individuals bringing Simons' idea to life, 'chosen for who they are, where an essential strength of character is key. Whether famous or unknown, all are treated equally.'
Photo credit: Calvin Klein CKBA 1-14, source: CalvinKlein.com
Jackie Mallon

|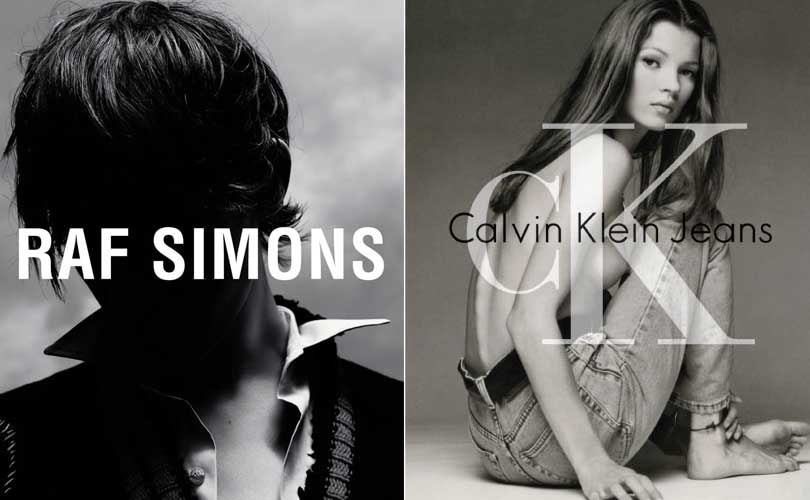 New York - This New York Fashion Week boasts the season's most happening event: Raf Simons's debut for Calvin Klein. Almost universally recognized as a perfect match––at a time when pairing designers with houses has become increasingly risky as more often than not they don't work out––it is one of the highest profile creative/corporate match-ups ever.
The Ultimate Designer
The Belgian who considers himself a self-taught menswear designer, having graduated in industrial and furniture design, celebrated his eponymous company's twentieth anniversary last year. He has built a reputation on an eternally youthfully aesthetic––despite the fact that Simons is approaching fifty––by diffusing clothing with the rebellious spirit of teenage subcultures, underground punk, techno and New Wave music, along with contemporary art influences.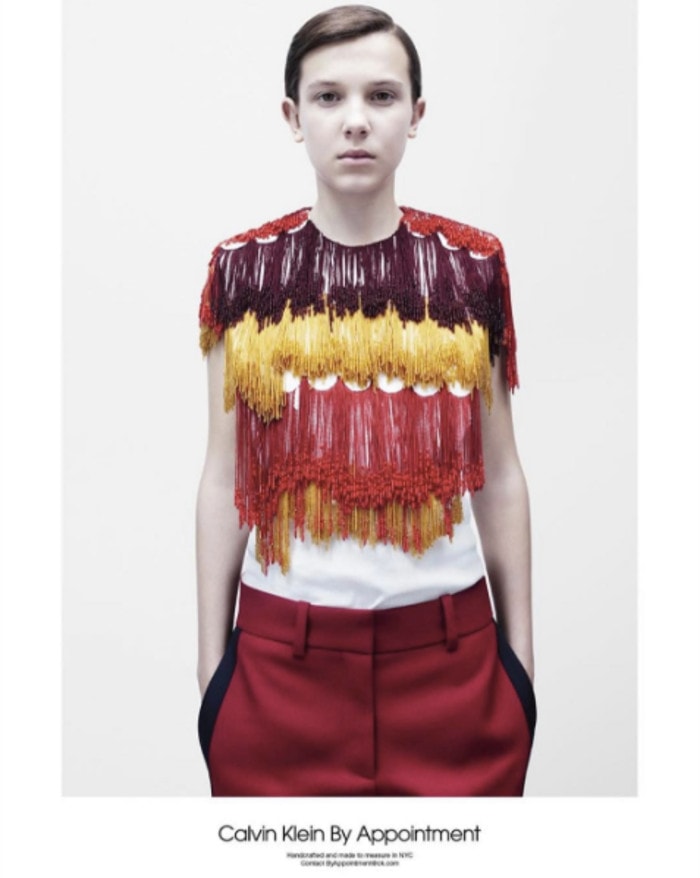 His highly successful tenure at Jil Sander was the first time he designed womenswear. It worked like a charm. His most recent role at Christian Dior loosened the house's ties to the fussy opulence associated with old Parisian couture houses and instilled a bracing freshness, and a painter's exacting employment of color and surface decoration that became instantly recognizable. Each turn has shown that Simons with an almost curatorial eye can assemble the house's motifs into a new pleasing arrangement while never losing his own signature. Therefore hopes are already sky-high for his latest, as Chief Creative Officer of Calvin Klein overseeing all aspects of design, including licenses, global marketing and communication. Here's what he's in for…
The Ultimate Brand
Calvin Klein is a monolithic name in American fashion, one of the late twentieth century's big three, together with Donna Karan and Ralph Lauren. While the name still commands enormous respect, it hasn't actually stood for any agenda-setting fashion for a long time. The runway collections have not been covetable and revenue comes from the sales of jeans, a vast difficult-to-define White Label business, underwear and fragrances, areas under the purview of former Creative Director, Kevin Carrigan, who had been with the company for eighteen years but who resigned two days after Simons's appointment. Calvin Klein's multiple tentacles hit just about every price point imaginable and, according to the PVH website, the company has "65 licensing and similar arrangements worldwide." How Simons manages these will put him to the test like never before.
In the 90s Klein's commanding catwalk visions of understated tailoring and refreshing slip dresses in a restrained palette were the epitome of American luxury and confidence. Always a master of advertising, Klein launched the naked waif, Kate Moss, sprawled on a couch with Mark Wahlberg on billboards all over the world and shot her to fame. In the mid-90s, his advertising videos for jeans and fragrances captured the zeitgeist. Runway and advertising will be two areas to almost certainly benefit from Simons's Midas touch. We have seen a glimpse in the just-released ad campaign for his new By Appointment line featuring among others Milly Bobby Brown from hit Netflix show Stranger Things.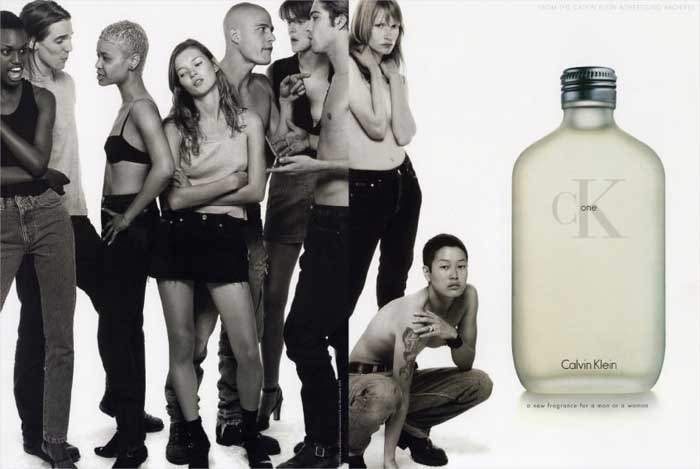 The Ultimate Challenge
Raf Simons's website states, "The most important message Raf Simons wants to communicate is: Pride in Individuality." Respect for his singular vision will certainly propel every editor and journalist to descend on New York this fashion week in giddy anticipation. Although a city brimming with wealth, with a fashion calendar that seems to grow every season, New York is still haunted by the shadow of being too commercial to be truly exciting. It lacks the hot new trailblazing talent at work in Europe, say, Paris's Demna Gvasalia, who was hired at Balenciaga, or London's Jonathan Anderson, at Loewe. We know that Simons will combine his men's and women's ready-to-wear in one show, something the house has never done before. As fashion week preparations begin, the heated expectation for this single show threatens to burn up the Manhattan grid.
To use the words of Steve Shiffman, Calvin Klein's CEO, "The arrival of Raf Simons as Chief Creative Officer signifies a momentous new chapter for Calvin Klein. Not since Mr. Klein himself was at the company has it been led by one creative visionary. Raf's exceptional contributions have shaped and modernized fashion as we see it today and, under his direction, Calvin Klein will further solidify its position as a leading global lifestyle brand."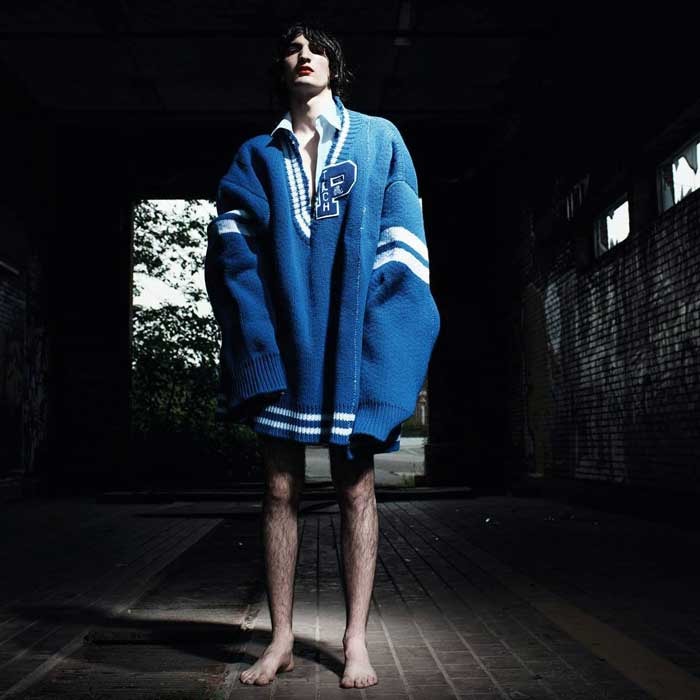 The stripping away of the inessential, the precision of cut and color at the heart of Klein's vision will surely appeal to the industrial designer in Simons. And with his eternal inspirations of boy scouts and school uniforms and youth culture, he might even save the all-but-perished American prep aesthetic which has lost its once-untouchable iconic stature and commercial appeal. But how Simons's thoughtful approach will synch with the commercial dynamo of parent company PVH remains to be seen. He famously cited the pace and pressure of the fashion calendar as a reason he left Dior.
His new role will be that on steroids.
Photos from: Raf Simons Facebook, Calvinklein.us and Millie Bob Brown's Facebook page
By contributing guest editor Jackie Mallon, who is on the teaching faculty of several NYC fashion programmes and is the author of Silk for the Feed Dogs, a novel set in the international fashion industry.
AFP

|
Geopolitics made a rare foray on the Paris catwalks Sunday when the upstart Chinese brand Sankuanz said the world must wake up to the "reversal" of the old order. Rising star Shangguan Zhe's collection "Destroy" included clothes, often made from bio-chemical protection suits, emblazoned with charged slogans such as "Immigrant", "Natural Selection" and most controversially of all, "Communism Never Happened."
The designer, whose rebel spirit has won him a growing following, said in a week when Donald Trump has become US president he was asking people to take their "goggles off and look outside of political correctness and politics at the reversal of an established system". "I am not a fighter... I am just telling the world as it is right now," he told AFP.
On his slogan "Communism Never Happened", which appeared on the back of two of his coats, he said: "It is not really a slogan, it is just my observation. "As a young Chinese person this is true for me. China is not communist now, it wasn't when I was growing up, and I don't think it ever was," Zhe added.
With tension high between Washington and Beijing over Trump's attitude to Taiwan and fears of a trade war, he said "the only hope, the only opportunity to change this situation lies in rational creations by mankind like chemistry". Raw-edged military uniforms, jumpsuits and outfits made from Dayglo and synthetic DuPont material dominated his show which he said "hinted at a post-apocalyptic world".
Earlier in men's fashion week Balenciaga appropriated Democratic senator Bernie Sanders' campaign logo for some of the clothes in its show, held on the eve of Trump's inauguration. The gesture was seen as a snipe at the new US president who Sanders has insisted he could have beaten if he had of won the Democratic nomination. (AFP)
AFP

|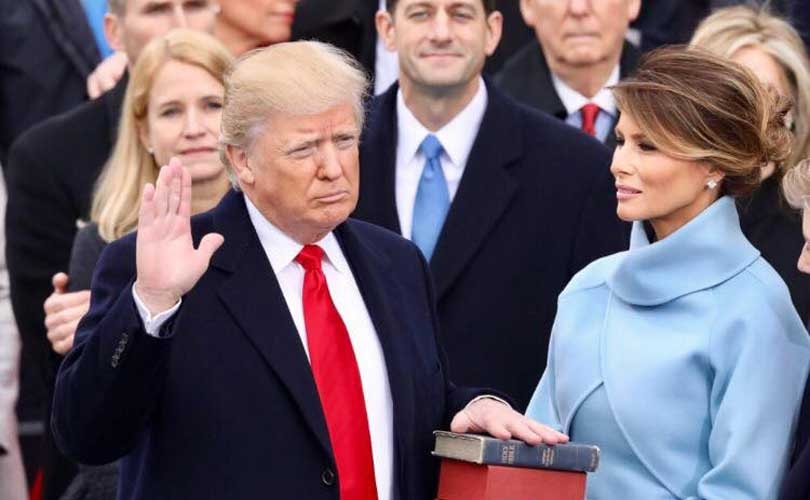 First Lady Melania Trump stunned fashion watchers by donning a sleek, off-the-shoulder cream dress with a daring thigh-high slit to dance with President Donald Trump at the inaugural balls.
Her column dress, finished with a sculpted ruffle that cascaded down the front of the gown and cinched at the waist with a red ribbon, won praise for being fresh, modern, elegant and yet understated.
She won rave reviews for her look and originality in choosing in Herve Pierre a New York-based designer who last year struck out on his own after working as creative director for famed label Carolina Herrera.
Her pick is likely to boost sales and publicity for the relatively unknown Pierre, much like her predecessor Michelle Obama's selection of the then relatively unknown Jason Wu in 2009 turned him into a star.
The 46-year-old former model glowed as she stepped onto the dance floor, her auburn hair hanging around her shoulders, with her husband, dressed in a black tie, to "My Way" the song made popular by Frank Sinatra and considered something of a personal anthem for Trump.
The couple swayed rather gingerly, the Republican president clutching his wife tightly by one hand and placing his other on her back as they nuzzled, and exchanged smiles and laughs.
The former reality TV star, who reportedly refused to practice the dance ahead of time, at times broke away from his wife to wave or flash a thumbs up to unidentified members of the crowd.
They were joined by Trump's adult children from his two previous marriages, each dancing with their other halfs, and first daughter Ivanka stunning in a pink bead-encrusted princess Herrera gown.
Channeling Jackie O in Ralph Lauren
Women's Wear Daily, quoting Pierre, said Trump collaborated on the gown. He said it had been an honor to dress her "under my name" after dressing first ladies Hillary Clinton, Laura Bush and Michelle Obama while working for Oscar de la Renta and Carolina Herrera, it said.
The new first lady's sartorial picks for the inauguration went some way to silencing critics who have complained in the past that she favored high-end European clothes rather than American creations.
Earlier in the day she donned a custom-made power blue suit from US fashion royalty Ralph Lauren for her husband's swearing-in ceremony. Her cashmere turtleneck dress fell to her knee, paired with a cropped bolero jacket and matching suede gloves. The Slovenian-born first lady wore her hair swept up, showcasing diamond stud earrings.
It was a look that channeled her 1960s predecessor Jackie Kennedy, of whom she has spoken admiringly, the wife of slain Democratic president John F. Kennedy and considered one of the most stylish first ladies.
Lauren, a 77-year-old master who personifies a rags-to-riches American dream is perhaps the country's most iconic living designer, whose clothes define a uniquely American sense of elegance.
His decision to work with the new first lady comes after a string of other designers refused to dress her, citing opposition to her husband's controversial policies on immigration and campaign insults.
An American first lady's clothes have become hugely influential, believed to send implicit messages about the tone of their husbands' administrations.
Old fashioned feel
Both Melania Trump's outfits on Friday are likely to go on display at the Smithsonian's National Museum of American History along with first lady inaugural wear dating back to Mamie Eisenhower.
Obama was particularly praised for her savvy blend of accessible high street clothes with striking high-end pieces that championed a host of little known designers.
As the wife of a billionaire, it remains unclear whether Trump will follow Obama's example and include cheaper outfits in her wardrobe. She will also have to work hard to keep up with 35-year-old Ivanka, who unlike Melania is moving straight to Washington with her husband, Jared Kushner, an incoming White House advisor.
Tickets to the official balls went for 50 dollars a head, which the Trump team said was designed to make them accessible to the ordinary voters who helped propel Trump into the White House, electrified by his populist, message that has nonetheless alarmed vast swaths of America.
The three official balls, the grand finale to inauguration day, served up a slice of old fashioned glamour with performances from the likes of the Rockettes, Michael Flatley's Lord of the Dance and Sam Moore.
Aged 70 and the oldest man ever sworn in as US president, and the first to have never previously held elected or military office, Trump and his family took to the dance floor at all three.
The choice of "My Way," a song made globally famous by Sinatra in 1969 is synonymous with Trump's hometown New York and is own tear-up-the rule book approach to politics that ended in his widely unexpected election. (AFP)
Photo: Melania Trump, Official Facebook Page
AFP

|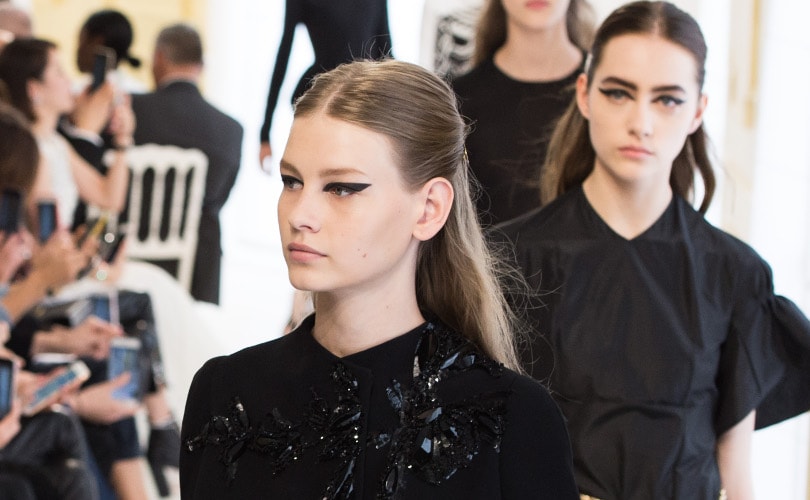 With Paris men's fashion week coming to an end Sunday night, we pick out five of the big trends in the autumn-winter collections:
The young ones
Youth may be wasted on the young, as Oscar Wilde once quipped, but style isn't, insisted the Paris shows, which went all-out to capture the hearts of millennials. Rarely have the catwalks been so focused on teens and twenty-somethings.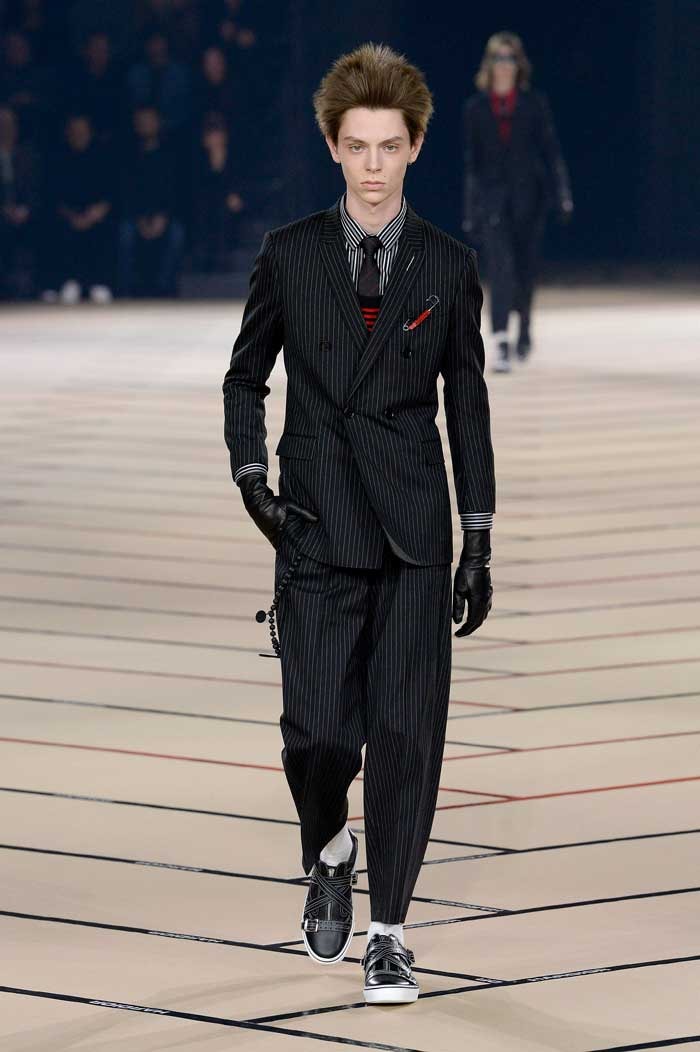 The hoodie conquered all and skate kid chic was everywhere, with Japanese brand Facetasm going so far as to send its models out with what appeared to be fake acne. The slogans that ran through The Etudes, Lanvin and Chinese brand Sankuanz shows were pure teen spirit, "Never mind", "Nothing" and "Destroy".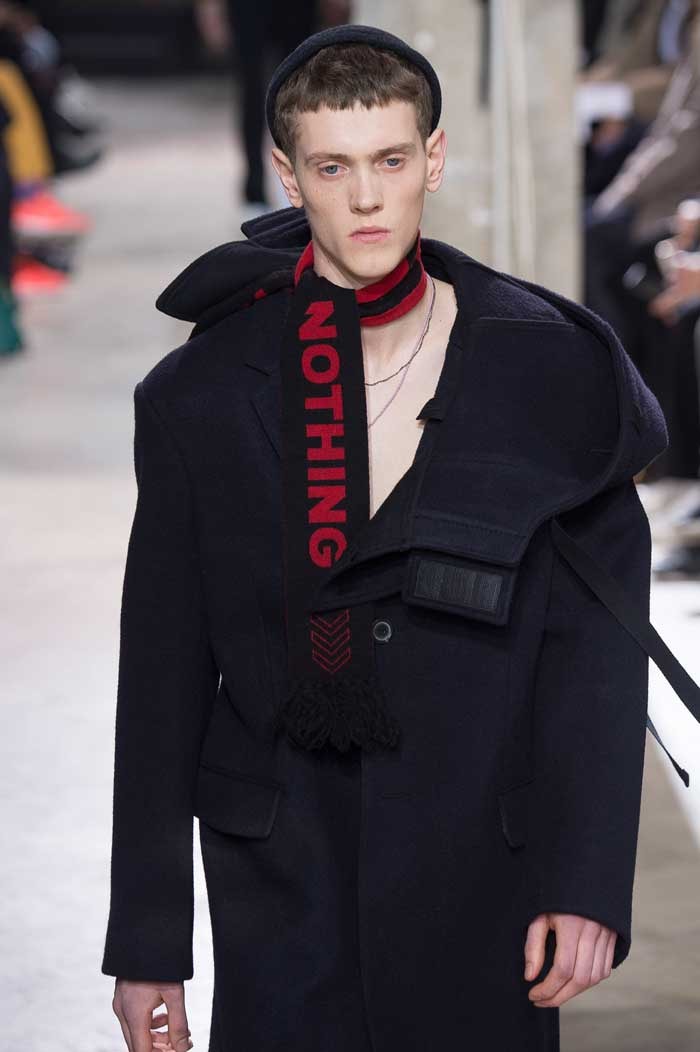 Dior's Kris Van Assche, whose show was a rallying call for a "new tailoring" aimed at the young, summed up the adolescent fascination. "I have always been drawn to the moment when boys become men and they are still clinging onto to dreams, desires and freedoms and haven't yet slipped into the straitjacket," he told AFP.
Logos
Not since the 1980s heydey of bling branding has fashion had such a fascination with logos. Dior, Loewe, Balenciaga, Andrea Crews, Louis Vuitton, Icosae and even tastemaker in chief Dries Van Noten went logo a go-go. Like much else these days you can blame/credit Georgian trendsetter Demna Gvasalia and his Vetements collective, who name-checked no less than 54 big brands in its last show.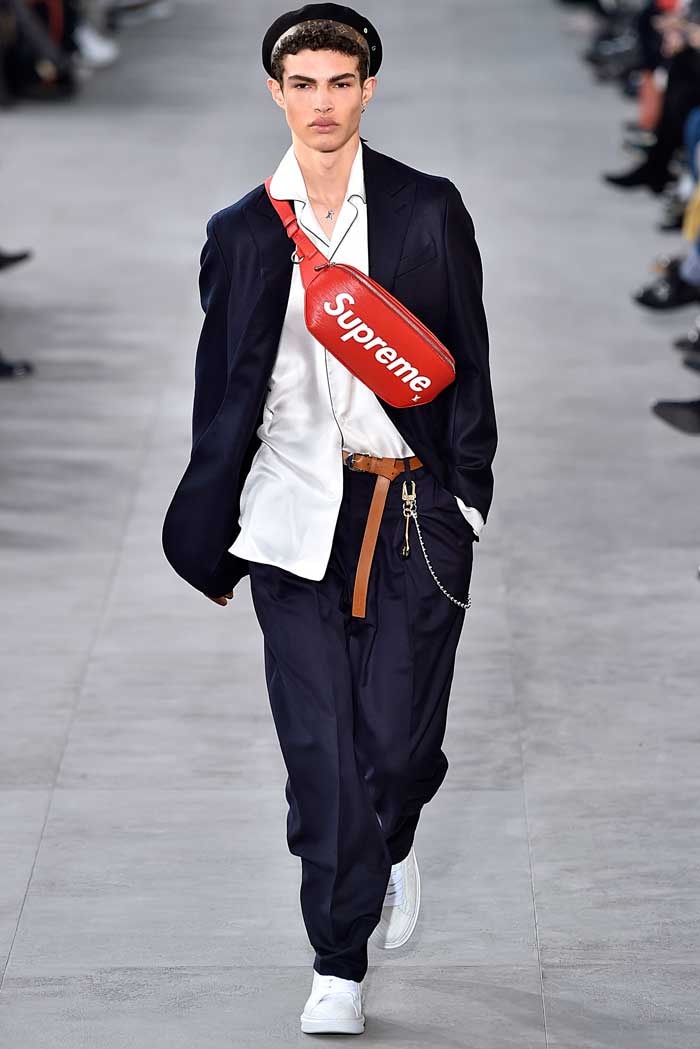 Gvasalia was up to his old logo banditry tricks in his show for Balenciaga, appropriating Bernie Sander's campaign logo, much to the US Democratic Party senator's amusement. There was less to smile about at Vuitton, where its collaboration with the super hip US street label Supreme had decidedly mixed reviews, with the New York Times calling it "the fashion version of a murder-suicide".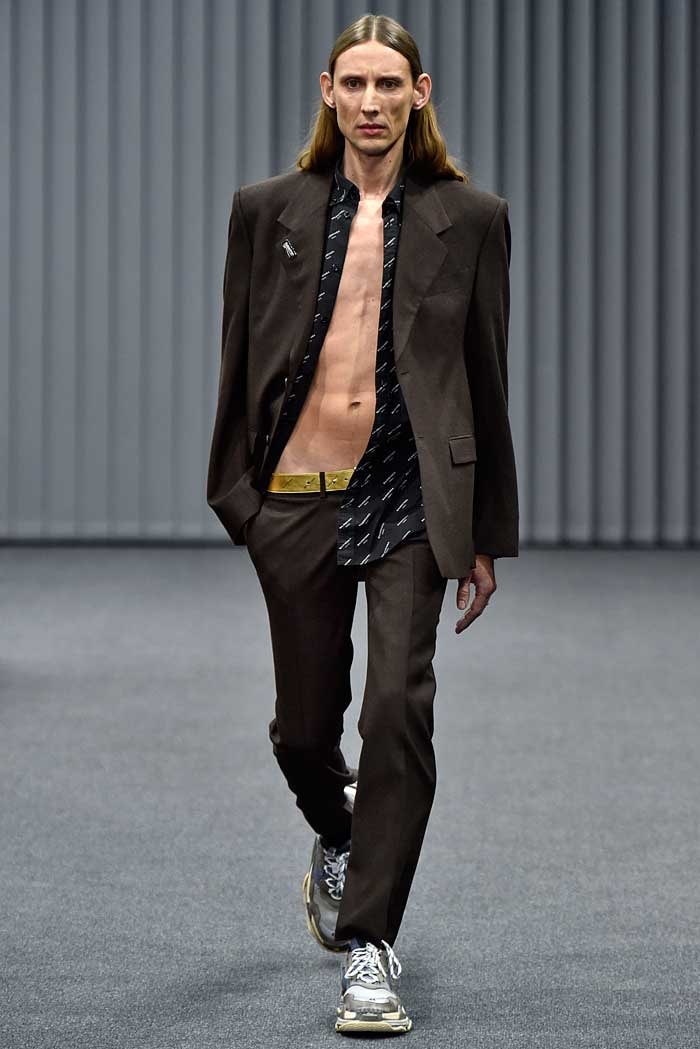 Women everywhere
This was supposed to be men's fashion week, but with so many women also on the catwalk you could be forgiven for thinking otherwise. Mixed and gender-fluid shows have been a thing for a while, but now it has almost become the rule to have a few women models in men's shows, much to the chagrin of some like Dior's Van Assche who claims men's clothes are losing definition.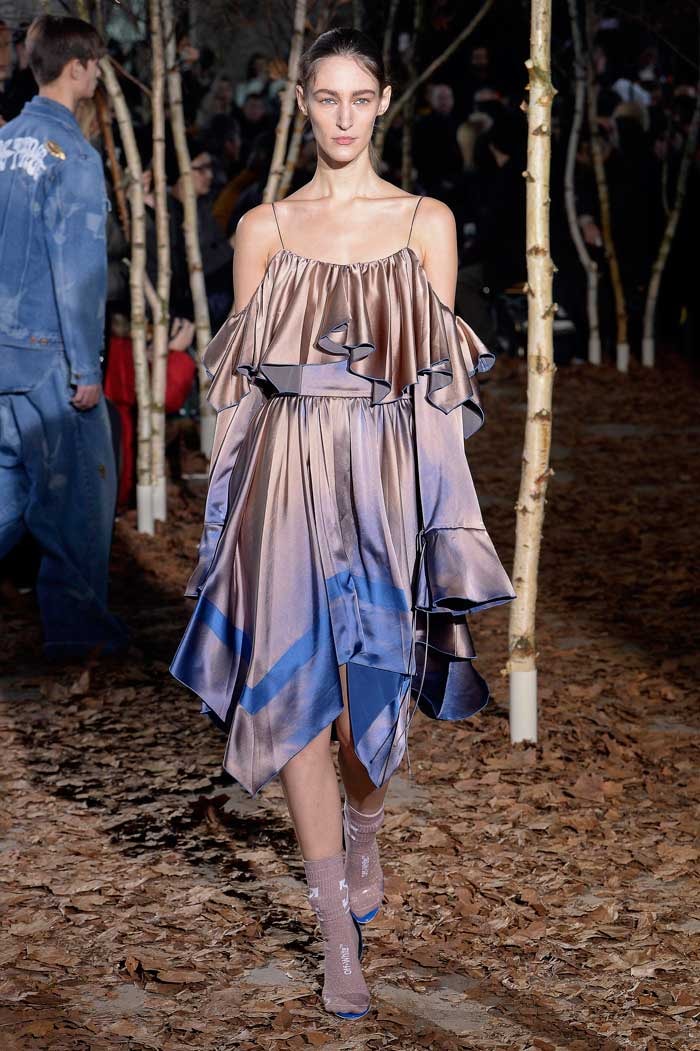 Vive the Establishment!
The establishment may be a dirty word politically right now yet fashion can't get enough of its stuffy symbolism. The "in" colours of burnt gold, rust brown and red are nothing if not upper class, and aristocratic Prince of Wales overcheck tartan turned up in all sorts of unlikely places.
You would think you were at a grouse shoot looking at some of the fabric Paul Smith, Agnes b, Officine Generale, Alexandre Mattiussi, Kolor, Loewe, Berluti and Haider Ackermann put out. Upper crust dandies abounded, most memorably at Ann Demeulemeester, with pinstripes also figuring strongly even among such cutting edge labels as Christian Dada and Henrik Vibskov.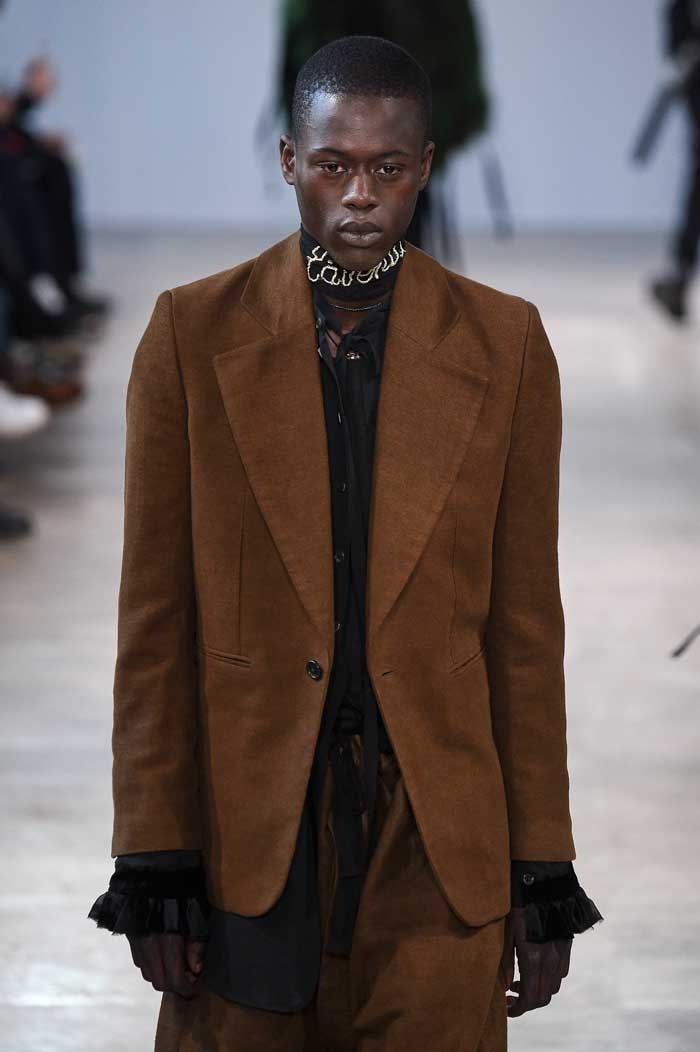 Trainers with everything
Overall, however, informality was king -- Paris being far too cool to be casual about anything. There was almost no formal wear at all apart from a handful of red-carpet two pieces at Agnes b and the odd outfit that might do at a stretch at Berluti, Ann Demeulemeester and Wooyoungmi.
Dress suits and evening wear appear to be over, trodden into the ground by the onward march of trainers, which were matched with everything from the couture heights of Dior to Balenciaga's Frankenstein office suits to Vuitton, no longer a synonym for well-heeled where footwear is concerned anyway. (AFP)
Photo: Dior AW17. Credit: Catwalkpictures
AFP

|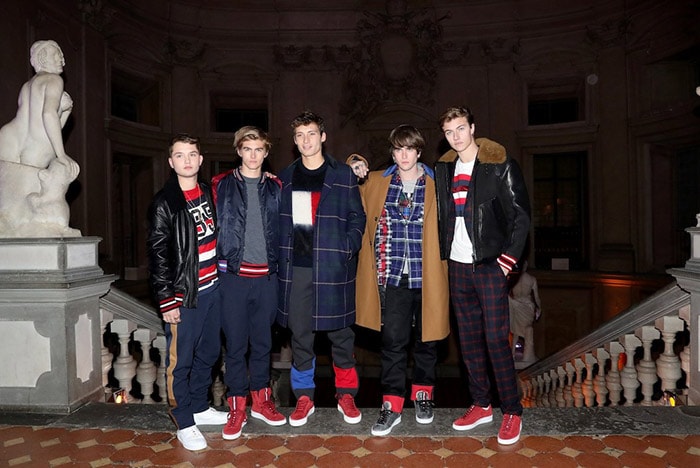 They are fashion's new celebrity aristocracy, the sons and daughters of stars who are themselves becoming the kings and queens of the catwalk shows. From Lily-Rose Depp and Will Smith's daughter Willow -- the faces of Chanel -- to the Beckham boys and Sylvester Stallone's two daughters modelling for Dolce & Gabbana, celebrity offspring are luxury labels' new not-so-secret weapon.
With their huge followings on social media and instant name-recognition, these millennials born in the limelight have become the perfect avatars for advertising campaigns. British actor Jude Law's daughter Iris is the new face of Burberry having followed her brother Rafferty in modelling, while the daughters of singer Lionel Richie, Cindy Crawford and even Bob Dylan's grandson have all embarked on catwalk careers.
Michael Jackson's daughter Paris turned up in the French capital this week for a photo shoot, adding her name to a bulging celebrity model roll call that includes the daughter of Oasis singer Noel Gallagher, the son of Isabelle Adjani and Daniel Day-Lewis, the daughter of Nastassja Kinski and Quincy Jones, and the sons of Sean Penn and Pierce Brosnan.
The list is endless and seemingly inexhaustible, with marketing experts maintaining that young consumers cannot get enough of celebrity dynasties. You just have to look at the Kardashians, said Gachoucha Kretz, professor of fashion marketing at the HEC business school in Paris, to see how the model works.
Kardashian effect
They have converted their reality television fame into fashion hard currency, with Kim Kardashian and her half sister Kendall Jenner now established stars of the firmament, their every wardrobe choice scrutinised on social media.
Brands hope to piggyback on "the popular fascination with these tribes and families", Kretz said. With no problem about name recognition "there is much less marketing to do", she added. "The associations are already created."
With their Instagram or Twitter endorsements of their favoured brands, they become the ultimate "influencers" to help push demand. Aged only 17, Brooklyn Beckham has nine million followers on Instagram. After two years as a model he has branched out into fashion photography, shooting an advertising campaign for Burberry this summer that made headlines around the world.
Even fashion's biggest players are happy to play along with the family fame game. Chanel's Karl Lagerfeld, for instance, has been a enthusiastic nepotist, hiring Depp, Smith and Jenner, and taking former supermodel Ines de la Fressange's daughter Violette d'Urso as his muse.
Self-replicating elite
"The tabloids and celebrity magazines love these famous families and that assures media coverage," said Aurore Gorius, co-author of a French book "Sons and Daughters of..." The 2015 book casts a critical eye on the public's fascination with this "phenomenon of elites reproducing themselves and blocking social mobility. "These children have grown up under the eyes of the media and we are curious what will become of them," she said.
Trends expert Cecile Poignant, who teaches at the New School Parsons Paris, said there has been a gradual push towards the "starification of childhood" over the last 15 years. She said it began with photographer Annie Leibovitz's famous front cover of a naked Demi Moore pregnant for Vanity Fair magazine. "For a lot of models and celebrities, the child has become something of a fashion accessory, a must have," Poignant told AFP.
But could the omnipresence of celebrity offspring now finally lead to a backlash. Fashion student Marie Richaud said she found it irksome that their fame "is not based on merit but family links. It excludes".
Even so the 25-year-old follows several second generation celebs on Instagram even if "she doesn't identify with them". "These children who seems to have had it all give people something to dream about. But at the same time they can just as easily annoy," said Poignant.
"Do any of them have any talent or is their name enough (to succeed)? We will have to wait and see," she added. (AFP)
Photo: Left to right: Rafferty Law, Presley Gerber, Julian Ocleppo, Gabriel Kane Lewis and Lucky Blue Smith at Tommy Hilfiger Pitti Uomo AW17 Presentation, Courtesy of Tommy Hilfiger