Vivian Hendriksz

|
Debenhams has been struck with an online backlash after a security guard is said to have soaked the bedding and belongings of a homeless man sleeping outside one of its stores entrances.
Russell Allen wrote a post on Facebook to the Portsmouth Politics Group describing the incident, which took place during Boxing Day. Allen claims a security guard told him to "enjoy [his] water bed", after soaking his clothing, bedding and belongings outside of the Debenhams store in Portsmouth, Hampshire.
Allen said at first he thought he left a bottle open or spilled something on his socks and clothes. But then a security guard from Debenhams approached him and said he had 10 minutes to pack up and leave before adding that he should "enjoy [his] water bed."
The homeless man's clothing, food, dog bedding and public donations were all ruined by the water and when Allen went to confront the guard he was allegedly told he "deserved it." Since then, Allen's post on Facebook has caught the attention of the public and a petition has been launched by Jayde Crossley in Portsmouth has gained more than 12,000 signatures calling on Debenhams head office to open an enquiry into the situation.
A spokesperson from Debenhams has responded to the claims, stating that the entire event was an accident, but that the retailer took such matters very seriously. "We take this matter very seriously and have investigated it thoroughly. We have established that this was an unfortunate accident in which the routine cleaning of the fire exit from the inside of the store resulted in some of the gentleman's property on the other side of the fire exit becoming wet."
"ebenhams has now supplied the gentleman with new bedding and clothing, and a member of our team has met him to offer our sincere apologies for any distress caused," added the spokesperson. However, members of the public are not satisfied with the apology issued and are calling on Debenhams to take further action against the security guard or risk losing customers.
FashionUnited has reached out to Debenhams for additional commentary.
Sara Ehlers

|
Athleisure apparel company Fabletics is planning to expand starting this new year. In 2017, the activewear brand plans to open 12 new retail locations.
The e-commerce retailer has continued to move forward with physical locations in the past two years. "Ultimately, the store was designed to enhance our overall brand experience, inviting customers in to touch, feel and see the high quality fabrications, latest innovations and newest designs, while making it as easy as possible for them to shop the way they like," senior vice president of operations for fabletics, said in a statement. The 12 new stores will bring the brand's retail locations to a total of 30 in the country.
Co-founded by Kate Hudson, the retail brand has gained over 1 million members through its digital platform. The expansion in the U.S. will help Fabletics continue to strategically place flagships, helping the overall growth of the company. The openings will take place in Frisco, Texas; Indianapolis, Indiana; Lexington, Kentucky; Schaumburg, Illinois; Boulder, Colorado; and Portland, Oregon. Also, in July, Fabletics will open a second round of additional stores in California, Arizona, and New Jersey.
Don-Alvin Adegeest

|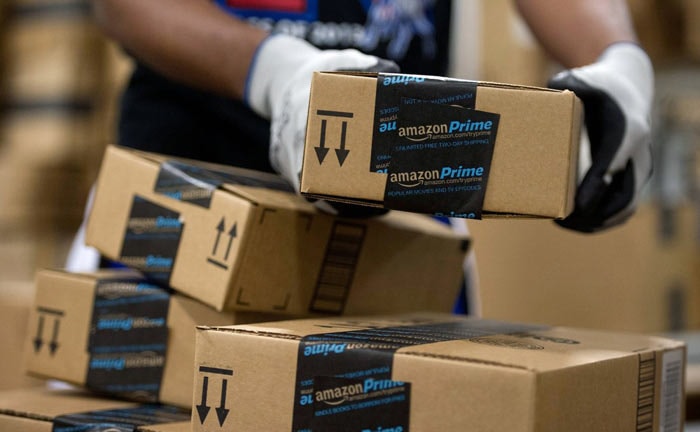 Amazon has released another set of impressive statistics, touting its best Christmas ever with a record-braking season.
The numbers, which include sales on Black Friday, Cyber Monday and Boxing Day, saw the company ship over one billion items to Prime members worldwide.
In addition, its app saw a massive boost by 56 percent with more than 72 percent of total Amazon customers around the globe using a mobile device to purchase items.
While December 19th was "the peak worldwide shipping day this holiday season," Cyber Monday saw customers purchase 46 electronics and 36 toys per second per second from a mobile device.
Bestsellers in the fashion category included Levi's Men's 501 Original Fit Jean, Fossil Emma Large Zip RFID Wallet, and Kate Spade Cedar Street Cami Convertible Cross-Body Bag.
Photo credit: Amazon Prime
Danielle Wightman-Stone

|
Key festive shopping dates, Christmas Eve and Boxing Day fail to attract the shoppers, as footfall numbers dropped, compared to the same days in 2015, according to figures from Springboard.
Christmas Eve had been predicted to be a second 'super Saturday' for retailers, however, shoppers stayed away with footfall dropping by 5.9 percent compared to 2015, as shoppers chose to conclude their shopping on Friday, December 23, which did see a 2 percent increase.
Boxing Day footfall was also disappointing as shoppers flocked to the online sales, with footfall down 7.3 percent year-on-year. This was driven by a 15.5 percent drop in shopping centre footfall and a 4.7 percent decline in those visiting Britain's high streets, while out-of-town stores saw a drop of 3 percent on Boxing Day 2015.
However, online transactions for Boxing Day rose 11.5 percent year-on-year, retail data company Springboard said.
Diane Wehrle, insights director at Springboard, said: "Though Christmas Eve is not necessarily the busiest day for trading, retailers do expect to see shoppers out to make some last-minute purchases, bolstered this year by the fact that it fell on a Saturday. However, this year footfall was down 5.9 percent for Christmas Eve, though it is a key day for consumers to travel to their Christmas destination which may hinder footfall.
"Though retailers will be pleased that online sales have helped temper the decrease in bricks and mortar sales over the Christmas trading period, Springboard are predicting that the decline in footfall will continue for the rest of the week. We expect that most consumers who venture out this week will be doing so for leisure as opposed to shopping, thus giving the high street the edge as it able to service the consumer demand for bars, restaurants and coffee shops."
Vivian Hendriksz

|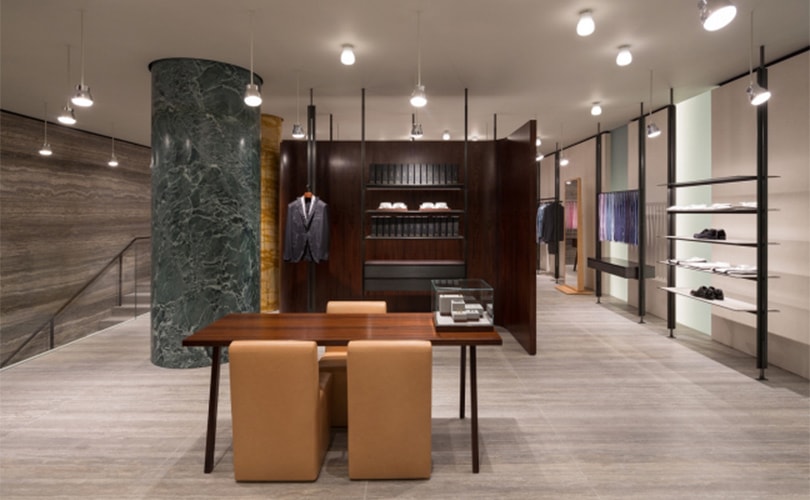 London - Brioni has opened its newest flagship store on Madison Avenue, in Manhattan, New York.
Located at 688 Madison Avenue, the newest flagship store from the Kering-held label spans 5,974 feet across two floors. The new store is also the second store in the group's retail portfolio to be designed by the David Chipperfield Architects group from Milan, following on from Brioni flagship store in Paris.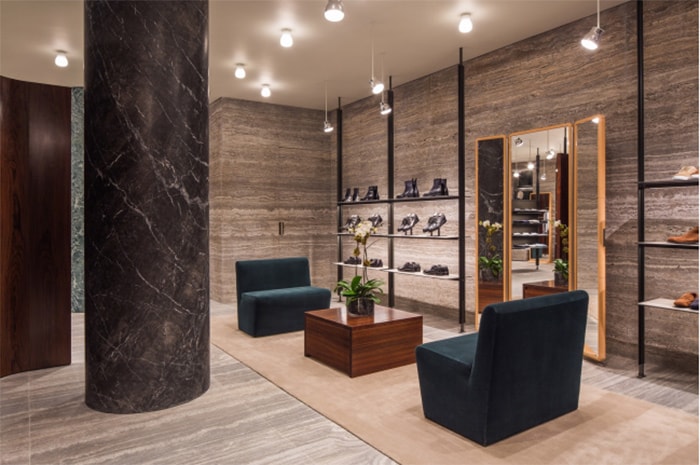 The new store is said to allow for an even better expression of the architects design and replaces Brioni current retail unit located on 57th Street. "We are delighted with our new store on Madison Avenue," said Gianluca Flore, Chief Executive Officer of Brioni in a statement. "The opening of this store is both key to Brioni's strategy and to strengthening of our relationship with New York and the US market."
The store's design is said to reflect Brioni's Italian roots, featuring grey Travertine floors and walls, as well as colored marble columns which act as the main design elements of its interior. The store's furnishings consists of key velvet items inspired by the work of 20th century architects such as Albini and Mies van der Rohe, while lighting fixtures are integrated into the ceiling and used with ambient side lights to create the sense of a more intimate space. The store also featured two entrances, with the main one off Madison Avenue and another on 62nd Street.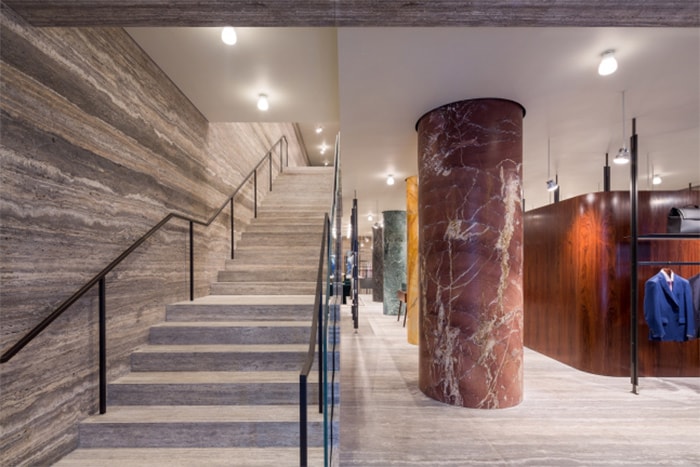 The flagship store offers the full lifestyle range from Brioni, as well as a few designs from Justin O'Shea, Brioni's former creative director, who left the role after one season earlier this year. The second floor offers more tailored and bespoke suits, complete with vintage inspired fitting rooms, whereas the ground floor offers the rest of Brioni's lifestyle offering, including small leather goods, ties, shows, sweaters, shirts, jeans and accessories.
Photos: Courtesy of Brioni
Don-Alvin Adegeest

|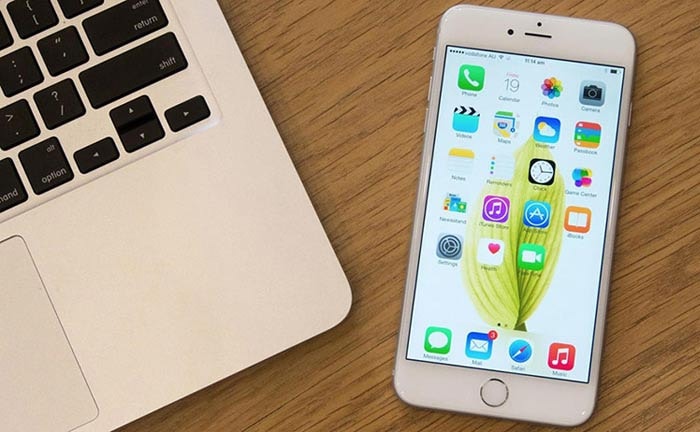 If 2016 was the year of true omni-channel retailing, data analytics are showing spending habits amongst users and their preferred platforms.
Whereas smartphones are the device of choice, they still don't account for the majority of purchases.
According to a study by eMarketer, analytics from more than 300 billion visits to over 16,000 websites and more than 90 billion app launches, found that desktop conversion rates are more than 2.6 times higher than on smartphones. And they're more than 1.3 times higher than on tablets.
Retail ecommerce conversion rates are likely higher on desktops because consumers are frustrated when browsing via mobile. According to companion research from Adobe Digital Insights, nearly half of respondents said mobile browsing was too slow, and nearly as many were frustrated with the device's small screen. Poor navigation was another hindrance.
Factors like poor navigation can certainly lead consumers to turn to desktop devices for their browsing and purchasing needs. Some 28 percent of respondents said they switch to desktops because it's easier to navigate there.
Moreover, 23 percent of respondents said they switch to desktops because they want to be able to see the product on a bigger screen before they buy it.
Data from eMarketer paints a different picture. Indeed, UK retail ecommerce sales are set to exceed 67 billion pounds in 2016, fueled by some impressive growth in smartphone-based buying, according to eMarketer's forecast. The UK is a world leader in terms of retail ecommerce's share of total retail sales, and by 2020 digital retail sales will represent a 22.6 percent share.
Photo credit: Entrepreneur online
Don-Alvin Adegeest

|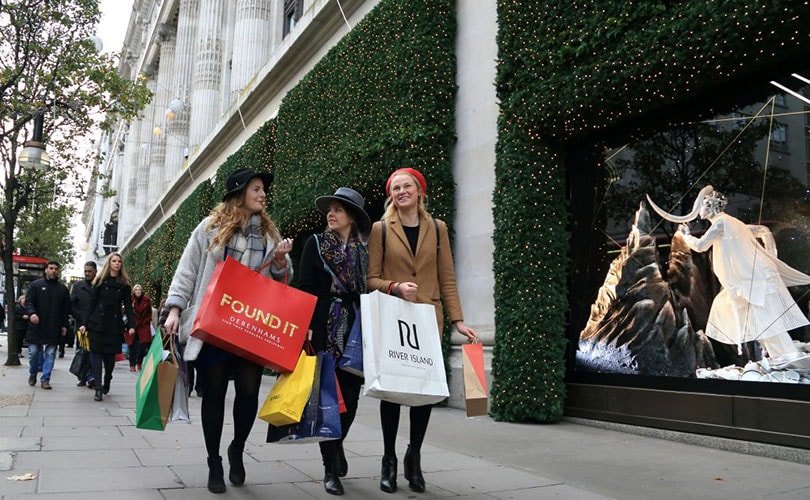 2016 has been a year of two halves. Consumer spending unexpectedly grew in the UK in the second half of the year, uplifted by Brexit, but also largely fuelled by wider economic and political factors.
In a its latest report by Barclaycard, consumer spending got off to a mixed start in 2016, with January and February seeing growth of 3.8 per cent and 3.4 percent respectively – before it dropped sharply as concerns about the EU referendum took hold. With warnings about the economic impact of leaving the EU prominent in early campaigning, spending growth fell to 1.6 per cent in March (a two-year low) and 1.9 per cent in April.
Barclaycard recorded a steady increase in overall spend growth in the second half of the year, peaking at a record high of 5.5 per cent in October – but this was accompanied by a sharp narrowing in the gap between essential and non-essential spending. Between January and June, the differential between the two categories was 5.1 per cent, but narrowed to just 2.2 per cent between July and November.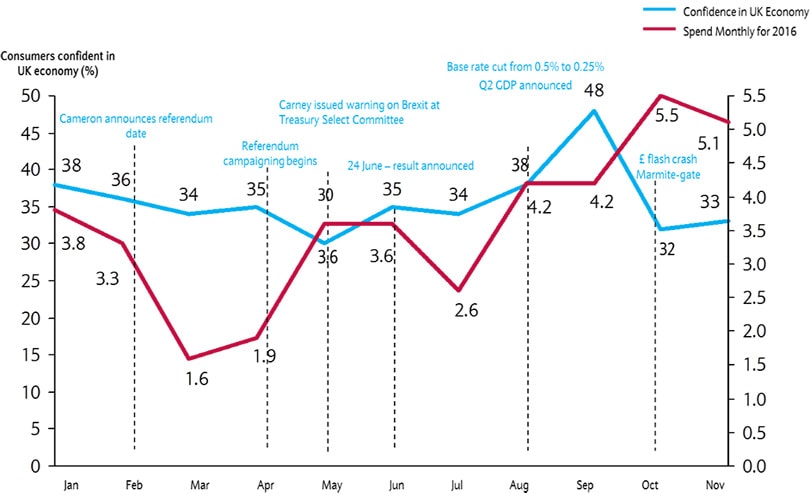 The shrinking of this gap was driven by a mix of increased spend in some categories and rising prices in others. The experience economy proved a clear winner when looking at discretionary spend that saw strong growth, whereas spending on clothing and fashion saw only a marginal increase of 2.1 percent.
Mens and womenswear saw moderate increase compared to 2015
It wasn't all bad for the fashion industry, however, as purchases of mens and womenswear grew 6.8 percent and 0.8 percent respectively, compared with 13.9 percent and 5.4 percent growth in the previous year as consumers.
Entertainment spend – which includes pubs, restaurants, cinemas and concerts – increased by a record 11.5 per cent across the year. Spending in pubs and restaurants also saw double digit increases of 13 per cent and 12.7 per cent respectively across 2016.
Paul Lockstone, Managing Director at Barclaycard, said: "Consumer spending grew 3.6 per cent in 2016, a healthy figure given that the backdrop of Brexit and other high profile economic and political issues caused uncertainty for many. When digging a bit deeper, however, it's clear that at least some of this growth was driven not only by increased spending on the 'experience economy', but also by rising prices in key sectors.
"As the year came to a close, this boosted spending on essentials, compared to items families may deem 'nice-to-have'. As we enter 2017, it seems likely that consumers will continue to watch the external environment before deciding how to allocate their cash over the next 12 months."
Photo credit:
Photo: Oxford Street via Oxfordstreet.co.uk and Barclaycard
Danielle Wightman-Stone

|
The second 'Super Saturday' on Christmas Eve is forecast to rake in 50 million pounds for retailers in London's West End, as last minute shoppers look to complete their Christmas shopping.
Figures released by the New West End Company, which represents businesses across London's West End including retailers on Bond Street, Oxford Street and Regent Street, is expecting more than 900,000 visitors to the area on Christmas Eve as it falls on a Saturday this year and is predicting a turnover forecast of 50 million pounds.
Jace Tyrrell, chief executive of New West End Company, said: "We've witnessed a fantastic trading environment in the run-up to Christmas, with November and Black Friday weekend exceeding all expectation and continuing to show growth on this time last year.
"We expect a significant trading day on Christmas Eve, boosted by continued international spend and the traditional 'last minute dash'."
Retailers in the West End have enjoyed a strong Christmas trading period to date, with sales in November soaring by 13.9 percent year-on-year. With Black Friday being the busiest trading day, with a two percent increase in footfall.
The discount day extended over the whole weekend this year, with footfall for the four-day period from Black Friday to Cyber Monday reaching 3,654,056, an uplift of 5.1 percent from the same period in 2015.
West End's luxury sector has also enjoyed "strong sales", driven by international shoppers taking advantage of the weak pound following the EU referendum vote, up 51 percent year-on-year with jewellery seeing a 19.7 percent increase.
Bond Street sales were up 34.3 percent year-on-year in November, while retail sales in Oxford Street were up 13.6 percent and Regent Street saw a 14.3 percent uplift.
Tyrell added: "The long-term impact of Brexit is yet to be determined and price normalisation will offset the positive effect we've witnessed in the second half of this year. This, combined with business rate increases of up to 80%, will mean a challenging year ahead for West End retail."
Danielle Wightman-Stone

|
Nearly one in five (19 percent) take time off work to "make the most" of going Christmas shopping, according to new research from shopping centre operator Intu.
It's Countdown to Christmas report reveals that the rise in leisure-led shopping means more people are making time for the "experience" by booking time off work to combine shopping with socialising, with five percent of this group taking as many as three and a half days off. While 16 percent said they are more likely to go shopping in the evening at Christmas than at any other time of the year.
Intu's research also notes that we are a nation of last minute shoppers with nearly a third (31 percent) waiting until this week to finish buying gifts, while as many as one in seven people haven't even started.
David Fischel, Intu chief executive, said: "Shopping behaviours throughout the year are evolving as a result of changing consumer expectations, new technology and social media, with shoppers looking for something that goes beyond the transactional.
"Going Christmas shopping remains an important and special part of Christmas tradition as people bring together shopping and socialising like never before. Our mission is to create their perfect shopping experience and, by getting it right for them, we're also getting it right for our retailers."
Vivian Hendriksz

|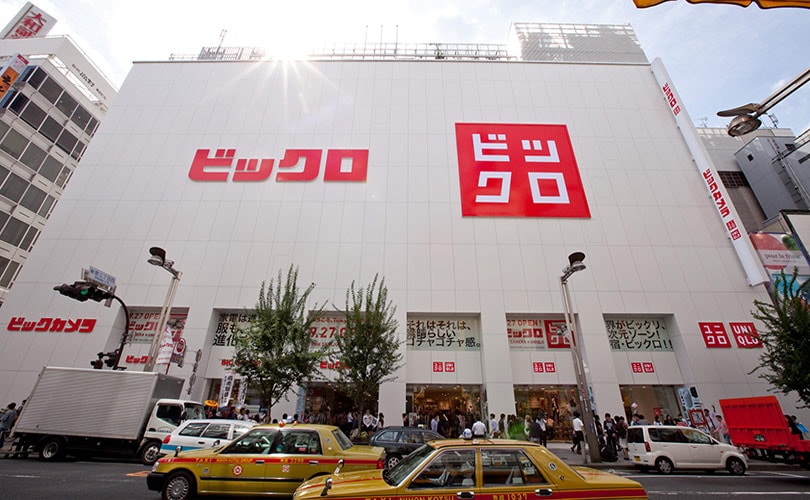 London - Fast Retailing Co. leading fashion brand Uniqlo is unable to shake its former reputation as a "black company" and has become the focus of an undercover investigation carried out by journalist Masuo Yokota that highlights its poor labour conditions which see sales associates being forced to work long hours.
In an article published in the December 8th issued of Shukan Bunshun, Yokota, who previously published a book entitled "Light and Shadow of the Uniqlo Empire" in 2011 which claimed the retail giant wasn't compensating employees for working overtime, explains how he went undercover as a retail associate at an Uniqlo outlet in Chiba.
Part of his decision to do so was linked to an interview published with Uniqlo founder and chairman Tadashi Yanai in March 2015 in President magazine, who said people who wrote books like the one Yokota did "should actually experience working in our company," reported the Japan Times.
Under an alias Yokota, who is in his 50s, began working at Uniqlo in the fall of 2015. He worked at numerous locations for thirteen months, as he was transferred many times, always taking note of the daily newsletters sent out from the upper management teams. Due to his previous book and the following lawsuit it brought on, Uniqlo has made a number of changed to its labour practices to ensure overtime was kept to a minimum.
However, the majority of the changes seemed to have occurred mostly on paper as Yokota found himself, with other regular sales associates working seven days in a row from 9 am to 11:30 pm during November's annual "thank you" festival. "It was like a war zone," he wrote in his Bunshun article on working during the sales periods.
In addition, he outlines how many regular employees would clock out of work for the day but then go on working for free, as the new rules limit official overtime. During busy sales period, head office employees would also be sent to work in stores and retail locations also extend sales periods to try and reach the sales targets set by Yanai.
After Yokota first reports were published, Uniqlo figured out his cover and fired him. However, in a second series of publications, Yokota describes his dismissal from Uniqlo, during which he asked what company rule he had broken to be fired. It emerged that he was not fired for the content of his articles, rather for merely writing them.
Photo: Courtesy of Uniqlo