Don-Alvin Adegeest

|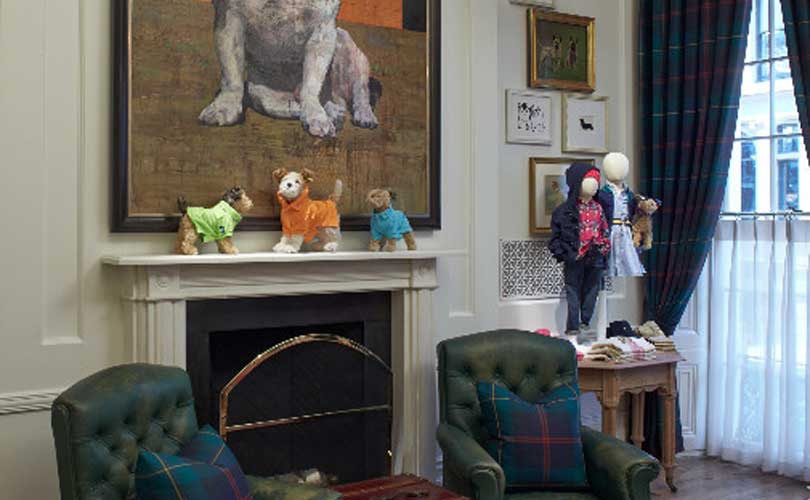 Luxury groups and brands have long divested their interests, and building brand extensions is just one way of bringing awareness and profit to a familiar name.
Take Ralph Lauren, for example, who's Polo lifestyle is so well engrained in consumers minds, that its new concept, a coffee bar and dining experience due to open next to its London Polo flagship on Regent Street, will be a surefire success.
Aptly called Ralph's Coffee & Bar, the venue will open this Thursday, and features the company's luscious interior such as leather banquettes, a brass bar and dark wood panelling. Expect plenty of equestrian touches and black and silver-framed black and white photography.
According to WWD the company said its new hospitality venture is a "natural extension of the heritage of Polo, that will add yet another dimension to the worlds we create."
The Polo store next door is Europe's largest with nearly 18,000 square feet of retail space dedicated to all the Polo lines, including a personalisation shop.
Photo credit:Polo Ralph Laurent, source: Regent Street Online
Danielle Wightman-Stone

|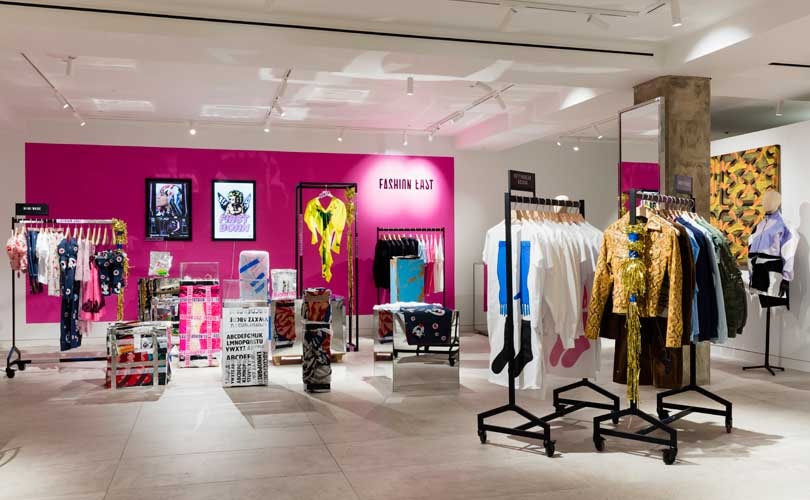 Fashion East, which promotes and supports emerging design talent, has teamed up with Selfridges to open a "one-stop pop-up shop of the brightest and best in British design", featuring its current line-up of designers and its alumni.
Lulu Kennedy, founder and director of Fashion East said: "It's a massive buzz and privilege to be calling Selfridges home for a few months! We look forward to our first retail venture and showing off our gorgeous alumni in such a brilliant fresh space."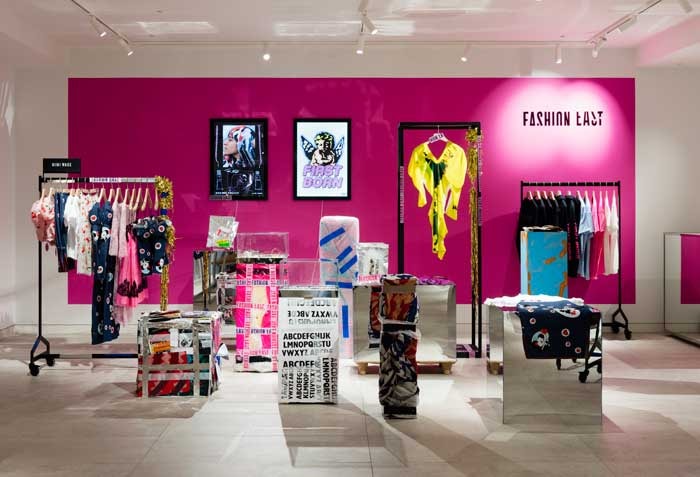 Open in The Designer Studio on the third floor, the 528 square foot space features a roster of Fashion East designers such as Matty Bovan, Charles Jeffrey, Craig Green, Richard Malone, Caitlin Price, Mimi Wade, Ashley Williams, Per Gotesson, Art School and Christopher Shannon, alongside Fashion East's own label.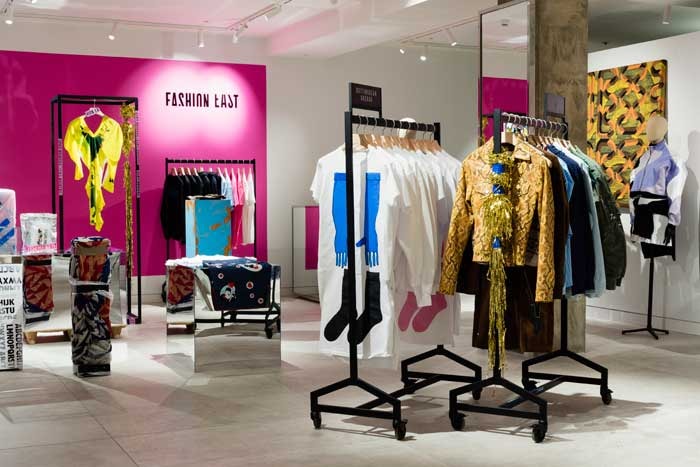 The pop-up carries exclusive items including men's and womenswear, gifts and collectables, including limited edition posters from Ashley Williams and Claire Barrow, phone cases featuring artwork from MAN invitations past and present, as well as 'Boys in Pain', a new art-zine from Charles Jeffrey 'Loverboy'.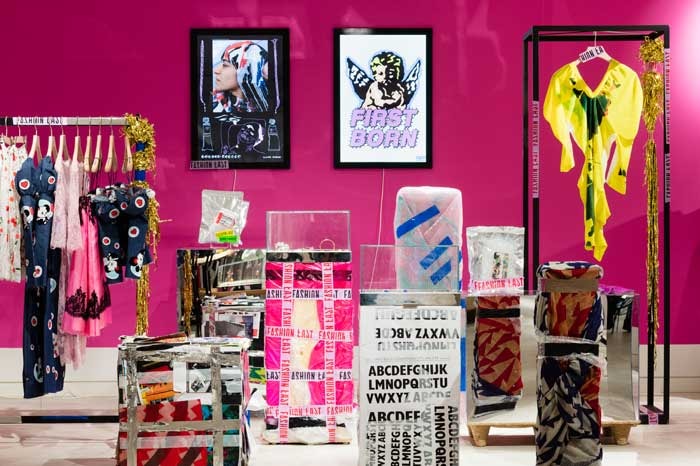 Fashion East opens first retail space in Selfridges
Sebastian Manes, Selfridges' buying director added: "You only have to walk around the fashion floors of Selfridges to see the amazing success and influence of Fashion East. In store for SS17 we have more than twenty Fashion East alumni and designers across menswear and womenswear.
"Having a Fashion East Store in Selfridges where a real cross-section of the Fashion East family are represented feels like a natural thing to do. And more than that, we loved the idea of giving Lulu a space to make her own – I think the environment and line-up of specially commissioned products will give an insight into her creative process and into a network of brilliant friends who are shaping what British fashion means today."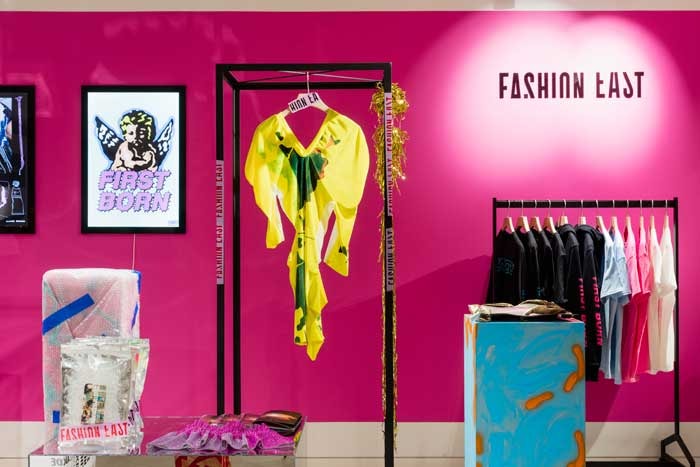 The nonprofit fashion scheme was launched in 2000 by Lulu Kennedy and The Old Truman Brewery as a platform to nurture young designers. Fashion East has kickstarted the careers of numerous designers including Simone Rocha, Roksanda Ilincic, Marques Almeida, Gareth Pugh, Kim Jones, Jonathan Saunders, Grace Wales Bonner, Craig Green and J.W. Anderson.
The Fashion East pop-up at Selfridges will run until the end of March.
Images: courtesy of Fashion East/Selfridges
Danielle Wightman-Stone

|
Intu's portfolio of regional shopping centres, which includes Lakeside in Essex and the Trafford Centre, has reported that footfall rose 1.1 percent compared to 2015 during the festive period.
The year-on-year increase in footfall was tracked from November 20, 2016 to January 2, 2017, taking into account Black Friday through to the first week of post-Christmas sales.
Intu said that footfall levels were "particularly strong", peaking at an increase of 3.1 percent year-on-year, during the first week of sales post-Christmas, from Boxing Day to New Year's Day.
David Fischel, Intu chief executive, said: "The growth in the numbers of people visiting our centres during the Christmas and sales period proves yet again the attraction of our prime regional centres. Customers are looking for retail destinations that offer the full package - the best brands, great places to eat and socialise and their perfect experience both at Christmas and all year round.
"With our focus on understanding and then delivering what customers want from their shopping experience, we put on a real festive treat for our customers, who combined their shopping with visits to Santa grottos, virtual reality experiences and enjoying the festive season with friends and family."
Danielle Wightman-Stone

|
Total UK sales increased by 1.7 percent, up from a 1 percent increase in December 2015, according to the monthly figures from the BRC-KPMG Retail Sales Monitor.
The British Retail Consortium said that December was a "polarised month" as shoppers held out for the Christmas week, which saw sales up around 40 percent compared with the other weeks of the month.
Total sales for December are in line with the three-month average of 1.8 percent, however, the BRC added that it was faster than the 12-month average of 1.2 percent.
Over the three-months to December, non-food retail sales climbed by 1.1 percent on a like-for-like basis and by 1.3 percent on a total basis, marking the lowest non-food 12-month average total growth since October 2012.
However, during the same three-month period, online sales grew by 7.2 percent, while in-store sales declined by 1.2 percent on a total basis and by 1.4 percent on a like-for-like basis.
British Retail Consortium chief executive, Helen Dickinson said: "December is the most important trading period of the year and with sales across 2016 growing more slowly than the previous year, it was all to play for in the final month. Despite the slow start to the Christmas trading period, the week itself was a bumper one and exceeded expectations. It delivered the majority of sales growth for the month, proving even bigger than the Black Friday period, which is the reverse of what we saw the year before."
Dickinson added: "The challenge for retailers in 2017 will be to create real growth against a backdrop of growing inflationary pressures and persisting economic and political uncertainty. To this end, we'll be continuing our work with Government to encourage policies that help retailers keep prices down for consumers."
Angela Gonzalez-Rodriguez

|
Retailers and manufacturers enjoyed record e-commerce sales in 2016, but according to UPS, this sector also is posed to break another record – that of the returns of holiday packages to retailers.
According to the shipment and delivery company, "Holiday shoppers are projected to return 1.3 million packages with UPS on National Returns Day and more than 5.8 million packages during the first full week of January 2017."
UPS added in an announcement on its official Pressroom blog that this rise in returns in not necessary bad news. "While returns can't be eliminated, an easy to use returns experience should be one of several retail strategies to enhance customer loyalty and manage the cost of returns processing," said Teresa Finley, chief marketing officer for UPS, which also offers return services to make returns easier.
Finley's opinion is that the rising return volume indicates good return policies that can improve customer loyalty.
On a related note, a recent 'UPS Pulse of the Online Shopper' study unveils that 70 percent of online shoppers made an additional purchase when they returned an item to a store, and 45 percent made an additional purchase when processing their return on the retailer's website.
"Retailers are continuously improving their returns programs. The next great opportunity is to unlock the value of these returned products through a sophisticated reverse logistics program," highlighted Finley.
Sara Ehlers

|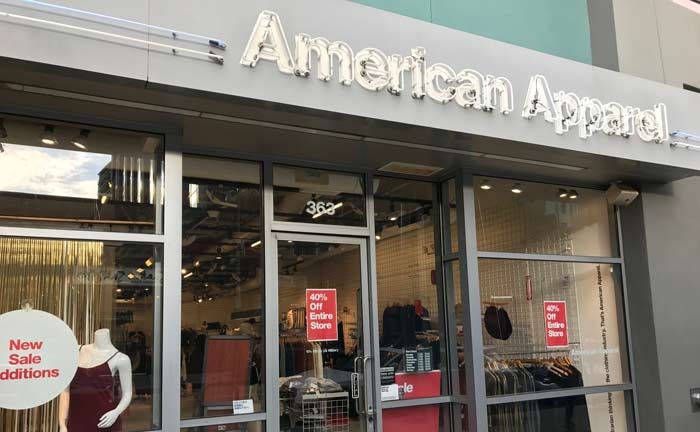 Los Angeles - As American Apparel nears its bankruptcy, the closures are tunneling in. Recently, the basics apparel brand has shown its preparing for shuttering its sales starting with sales in its existing locations.
Recently, Forever 21 and Amazon have shown interest in acquiring the Made-in-LA company. Authentic Brands Group and Next Level Apparel also are in talks with the retailer, according to Reuters. As American Apparel comes closer to its acquisition and letting the next company takeover, it shows throughout its locations that the stores are nearing closures.
Many stores in SoCal have already put up signs announcing 40 percent off of everything in the store. With the sale, which started as an end-of-year promotion, everything in stores is also final sale. Although not confirmed publicly, the continuation of the sale along with the company's impending bankruptcy suggest that the retailer may be closing its stores sooner rather than later.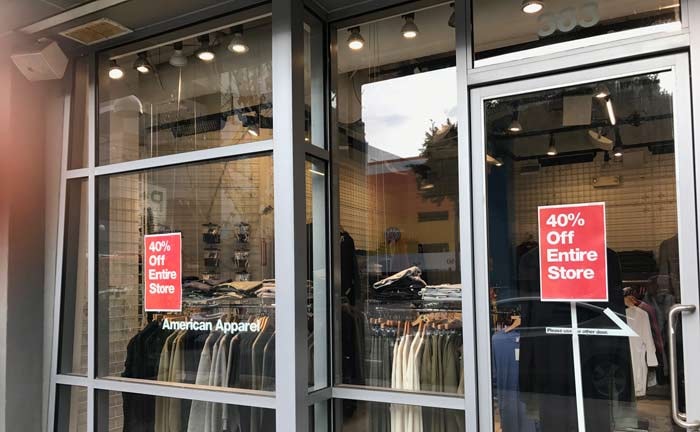 The store closures come as no surprise as the company has shut down many locations this past year already. The Los Angeles-based retailer already announced its international branch was to close last month. By December 24, the U.K. branch had already closed approximately a dozen stores with only one remaining in London. As previously reported by WWD, all 107 locations of the company were unlikely to stay operating under the new buyer. Some of the stores may be acquired in the bankruptcy auction, but the leftover flagships will close by April 2017.
Photo credit: FashionUnited
Vivian Hendriksz

|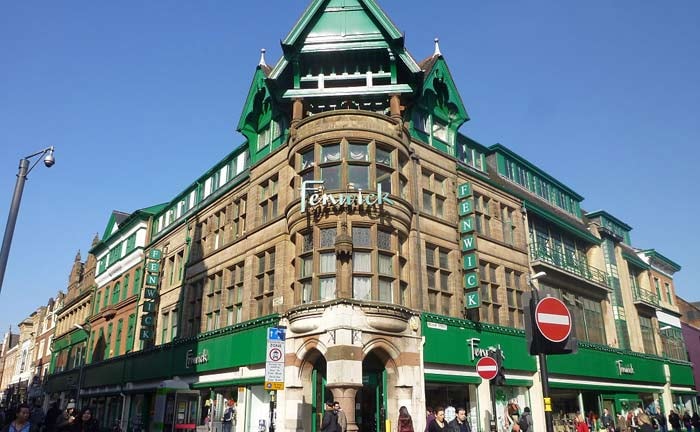 London - The first UK high street closure of 2017 has taken place as Fenwick is set to close its department store in Leicester over the next coming months. But shoppers needs to fear not a total loss of Fenwick, as the retail announced the launch of its debut online store Thursday morning.
The Leicester store's closure comes after 55 years of trading and has been linked to declining footfall, as well as a shift in consumer shopping habits to shopping more online. Located on Market Street, in the city centre, Fenwick Leicester has been trading since 1962. However, over the recent years, much of visitor footfall has been "diverted" away from the shopping area towards Highcross shopping centre and Fosse Park retail park, leaving Fenwick's and other retailers in the area struggle to attract sufficient shoppers.
Fenwick to close Leicester department store for good
"Together, these factors have meant the store has been unable to perform in line with expectations, despite the best efforts of the Leicester store management and employees," said a Fenwick spokesman in a statement. "Fenwick will now begin a consultation period with its employees. During this time the store will continue trading as normal under the leadership of David Illingworth." An exact closure date has yet to be formally announced, although the store is likely to shut its doors in March.
Close to 100 members of staff are set to lose their jobs are part of the store closure. "This has been a very difficult decision for us, as we have been committed to serving the people of Leicester for over 50 years, but the challenging trading environment and gradual loss of footfall, has made it impossible for us to find a way forward that enables the business to trade successfully," said Mark Fenwick, Group chairman and fifth generation of Fenwick's founding family. "Looking after our Leicester employees and customers will now be a top priority."
News of the store closure comes after Fenwick warned it was struggling with "extremely challenging" period within the retail sector late last year. Unable to attract enough shoppers to their physical store, Fenwick also suffered due to their lack of e-commerce. The company currently runs an information website, but aims to step into e-commerce this year. At the moment, Fenwick counts 11 stores in the UK, including its flagship store on New Bond Street in London and its revamped store in Colchester. The closure in Leicester comes as Fenwick plans to open a new store in Bracknell later this year.
Photo: By Love Art Nouveau [CC BY 2.0 ( http://creativecommons.org/licenses/by/2.0)], via Wikimedia Commons
Danielle Wightman-Stone

|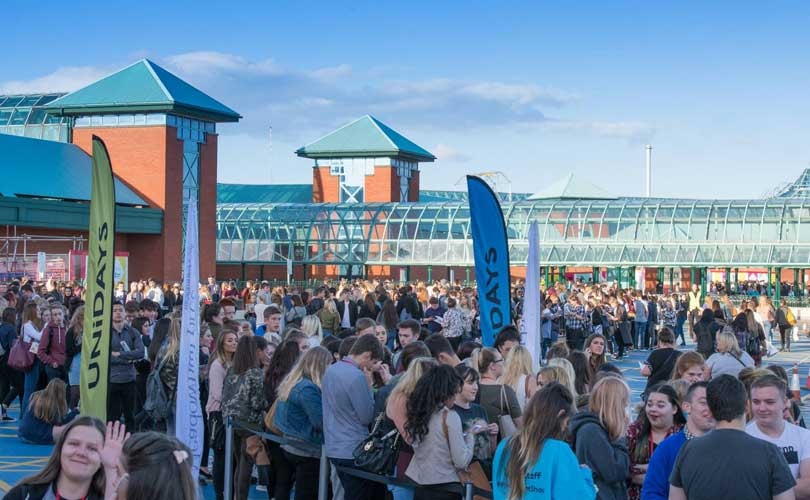 Experiential marketing activity in retail shopping centres can drive "huge" student engagement and increase footfall, according to new research from Unidays, the student affinity network.
Unidays hosted 15 student shopping events in 11 cities in 2016, coordinated mostly during the busy freshers period in September through to October, and they saw a 65 percent increase in on-the-night registrations, compared to the previous year.
The events, aimed at enabling brands to connect with students, took place in centres in major university cities including Manchester's Arndale, Sheffield's Meadowhall Centre, Nottingham's Intu Victoria Centre and Intu Chapelfield in Norwich.
Total pre-registrations across the events was over 100,000 as students signed up to secure exclusive discounts with brands, with Unidays using beacon technology around the shopping centres to ensure the students were directed to the best in-store deals on the night, as well as sending relevant discounts via push notifications to their smart phones. The events also featured demonstrations, distribution of samples and merchandises, and celebrity appearances.
Some shopping centres that took part saw a 98 percent uplift in traffic, when compared with a week-on-week comparison, while Intu centres saw a footfall increase of over 50 percent, as more than 194,000 people were tracked during this time, with Unidays members accounting for a third of all footfall in the shopping centres during the events.
Carl Aelle, head of retail innovation, Unidays said: "Retail events remain a huge untapped opportunity for retailers to get the chance to interact directly with an engaged student audience. No one knows students like Unidays and we use our knowledge of what they want from an in-store shopping experience and tailor the events to those needs.
"We saw an increase in pre-registration and footfall, which shows the continued relevance of a truly omnichannel approach that builds the strongest affinities."
Images: courtesy of Unidays
Don-Alvin Adegeest

|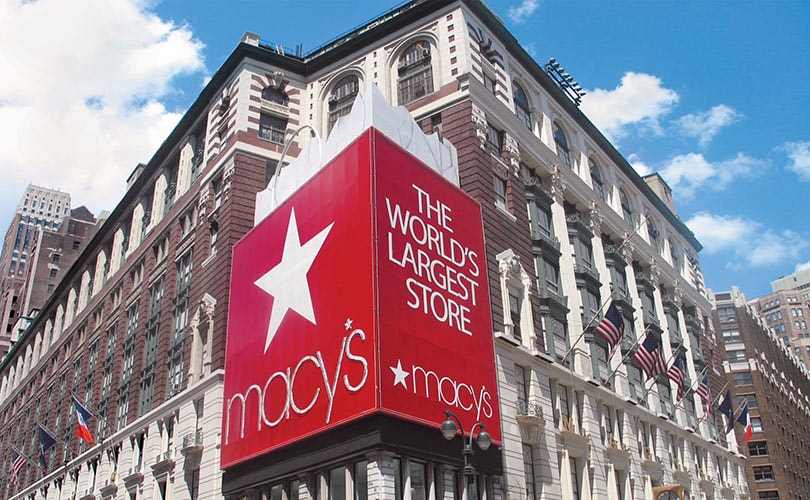 Macy's, once the stalwart of American retailers, is to close 68 stores and cut 10,000 jobs after poor holiday sales.
The company currently operates the largest department store chain in the US with a portfolio of 720 stores. Sales fell 2.1 percent in the final two months of the year, resulting in greater costs being cut.
Terry J. Lundgren, the company's chairman and chief executive, said in a statement that while the trend was "consistent with the lower end of our guidance, we had anticipated sales would be stronger."
He attributed the decline to "broader challenges" facing much of the retail industry, noted the New York Times.
Macy's isn't the only department store citing lacklustre sales. Kohl's Corp. on Wednesday also warned of weak holiday profits.
According to the Wall Street Journal shares of Kohl's tumbled 15 percent in late trading, while Macy's fell more than 10 percent. The news pressured other retailers, with Nordstrom Inc. and J.C. Penney Co., also trading lower after the market closed.
Read more background on Macy's here.
Photo courtesy of Macy's
Don-Alvin Adegeest

|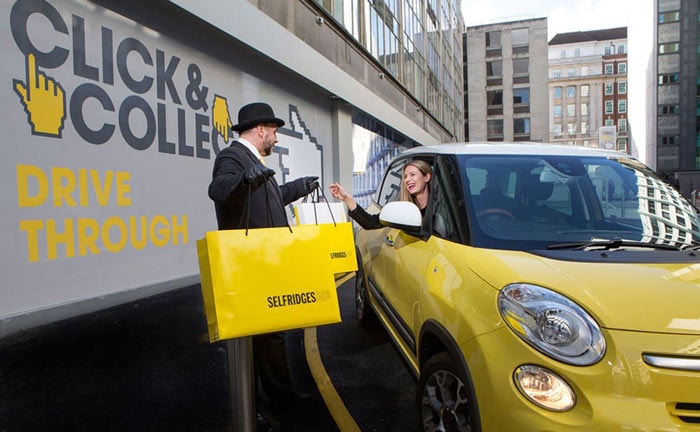 With the surge of online shopping and e-commerce, the UK high street took a hit this Christmas and suffered the quietest December foot flow in nearly two decades.
Retail footfall was at its lowest since 1998, the year when Ipsos Retail Performance started its Retail Traffic Index (RTI).
Even 'Super Saturday' saw a drop in high street shoppers
Even the busiest shopping week of the year, the third week of December leading up to Christmas Day and including "Super Saturday" on Christmas Eve, saw a drop in footfall of 1.7 percent on the same week in 2015, which had one day less of trading.
Footfall was down 9.3 percent last month compared with December 2015, the widest year-on-year gap since 2006, according to the index, which is based on the number of individual shoppers entering more than 4,000 non-food retail stores across the UK.
The South West of England and Wales suffered the biggest footfall drop of all the regions, with a year-on-year decline of 14.4 percent.
The fourth quarter of last year ended with 6.6 percent fewer shoppers than the same period in 2015.
The index is based on the number of individual shoppers entering more than 4,000 non-food stores across the UK, showed South West of England and Wales.
Dr Tim Denison, Ipsos director of retail intelligence, said: "We had projected better performance in the run up to Christmas, as the 6.4 percent year-on-year decline in November had been thought to be a consequence of Black Friday disrupting consumers' traditional shopping habits. However, the 9.3 percent deficit in December in fact points towards a more substantial structural shift that favours online shopping and a softening in overall consumer demand."
Denison added: "Demand amongst consumers had expected to stay resilient as we head into 2017. However, if the weakening of store footfall over November and December is symptomatic of a wider lethargy amongst UK shoppers, retailers could face a much stiffer challenge over the coming months.
"We were already anticipating that cost and margin would cause problems this year, so if demand crumbles away then all three key factors of retail health will be working against the retailers in 2017."
Photo: Click & Collect Selfridges